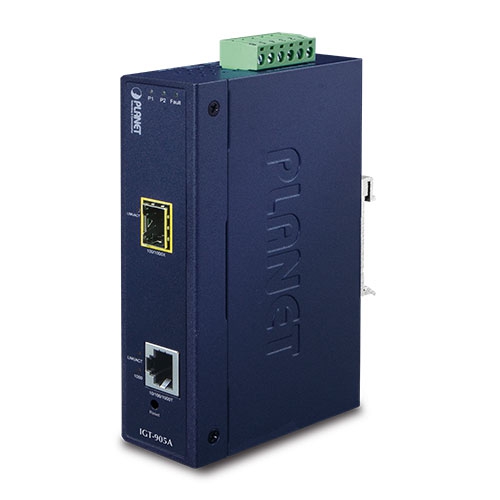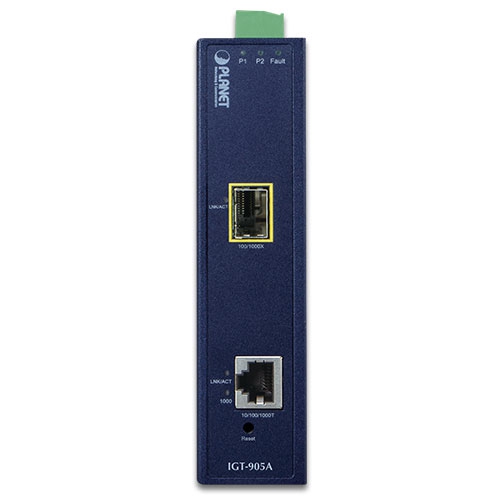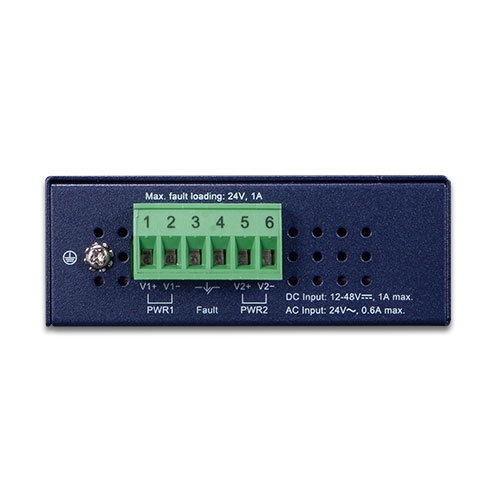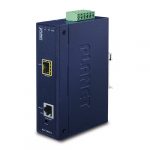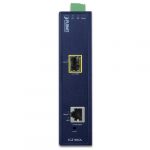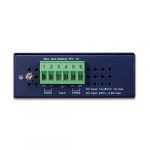 IGT-905A
IP30 Industrial SNMP Manageable 10/100/1000Base-T to MiniGBIC (SFP) Gigabit Converter, (-30 +75C)
Applicazioni
SPECIFICHE
DOWNLOAD
Descrizione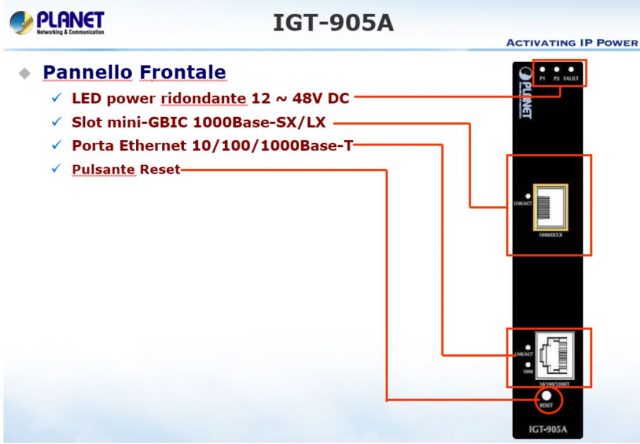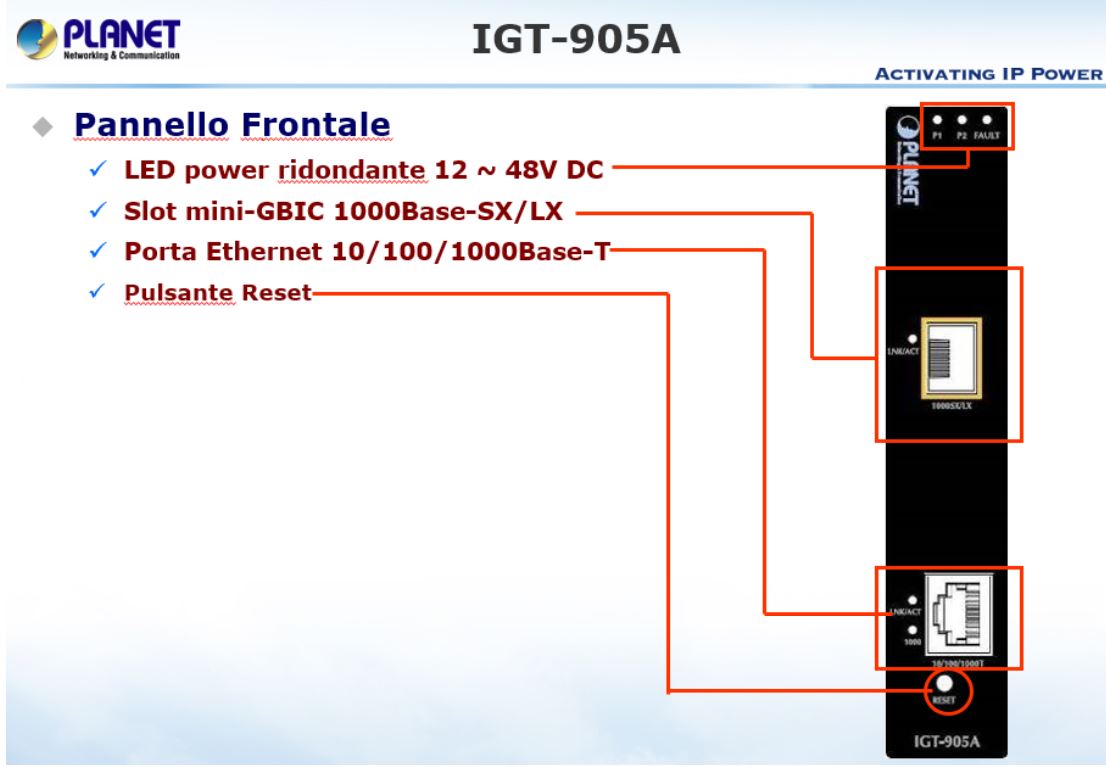 Rete di trasporto
La serie di Media Converter Gigabit industriali IGT-90xT, offre elevata affidabilità e sicurezza per garantire il funzionamento industriale continuo in ambienti esigenti come quadri di controllo dei trasporti, impianti di produzione o ambienti in cui si verificano temperature estremamente alte o basse.  Negli ambienti di rete industriali, è richiesto che ogni dispositivo di rete deve funzionare senza interruzioni in condizioni rischiose. Se le apparecchiature industriali non riescono a connettersi alla rete, questo potrebbe influenzare l'intero funzionamento dei sistemi industriali e causare quindi grosse perdite finanziarie. Il Media convertitore di questa serie soddisfa tutti i requisiti delle applicazioni industriali, offrendo agli utenti elevata affidabilità, capacità di recupero rapido e funzionamento sicuro della rete Ethernet.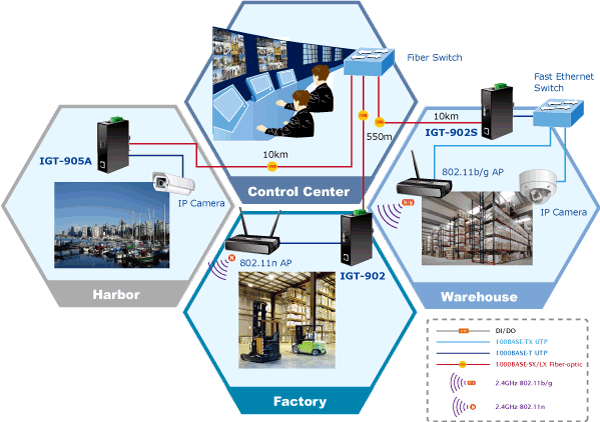 Networking in fibra ottica per ISP, imprese ed abitazioni
Con alte prestazioni di trasmissione dei dati e facilità di installazione, i Media Converter di questa serie sono in grado di realizzare una soluzione di rete ISP in tecnologia FTTH (Fiber to the Home), FTTC (Fiber to the Curb) per gli ISP o FTTB (Fiber to the Building) per le imprese con un ambiente di rete small office.
Hardware Specifications
Copper Interface
1 x 10/100/1000Base-T RJ-45 Auto-MDI/MDI-X port
Optic Interface
IGT-902T: SC
IGT-902TS: SC
IGT-905A: SFP
Optical Mode
IGT-902T: Multi-mode
IGT-902TS: Single mode
IGT-905A: Vary on module
Optic Wavelength
IGT-902T: 850nm
IGT-902TS: 1310nm
IGT-905A : Vary on module
Launch Power(dBm)
MAX.
IGT-902T: -4 dBm
IGT-902TS: -3 dBmMin.
IGT-902T: -9.5 dBm
IGT-902TS: -9.5 dBm
Receive Sensitivity
IGT-902T: -13.5 dBm
IGT-902TS: -14.4 dBm
Maximum Input power
IGT-902T: -18 dBm
IGT-902TS: -20 dBm
Speed
Twisted-pair
10/20Mbps for Half / Full-Duplex
100/200Mbps for Half / Full Duplex
2000Mbps for Full-DuplexFiber-optic
2000Mbps for Full-Duplex
Cable
Twisted-pair
10Base-T: 2-pair UTP Cat. 3,4,5, up to 100 m
100Base-TX: 2-pair UTP Cat. 5, up to 100 m
1000Base-T: 4-pair STP Cat 5,6 up to 100mFiber-optic Cable
• 50/125μm or 62.5/125μm multi-mode fiber cable, up to 220/550m.
• 9/125μm single-mode cable, provides long distance for
10/15/20/30/40/50/60/70/120km (vary on fiber transceiver or SFP
module)
LED indicator
• Power: P1, P2, Fault
• TP: LNK/ACT, 1000
• Fiber: LNK/ACT
Power Input
DC 12V to 48V
Redundant power with polarity reverse protection function
Power Consumption
7.9 Watts/ 27 BTU (maximum)
Dimensions (W x D x H)
135 x 85 x 32 mm
Weight
423g
Installation
DIN rail kit and wall mount ear
Management and Layer 2 Features
Management Interface
WEB / SNMP v1, v2c
Port Configuration
Port disable/enable
Auto negotiation 10/100/1000Mbps full and half duplex mode selection.
Flow Control disable / enable. Bandwidth control on each port.
VLAN
IEEE 802.1q Tagged based VLAN , 4K VLAN ID, up to 16 VLAN groups
Q-in-Q VLAN
QoS
Traffic classification based on :
• 802.1p priority
• IP DSCP field in IP Packet
• IP Address
Bandwidth Control
Ingress / Egress bandwidth control
• Rate range: 512kbps to 500Mbps
Storm control
• Broadcast / Multicast / Unknown Unicast packet
Standard Conformance
Standards Compliance
IEEE 802.3 10Base-T Ethernet
IEEE 802.3u 100Base-TX / FX Fast Ethernet
IEEE 802.3ab 1000Base-T Gigabit Ethernet
IEEE 802.3z 1000Base-SX / LX Gigabit Ethernet
IEEE 802.3x Full-Duplex Flow Control
Regulation Compliance
FCC Part 15 Class A, CE
Stability Testing
IEC60068-2-32(Free fall)
IEC60068-2-27(Shock)
IEC60068-2-6(Vibration)
Environmental Specifications
Temperature
Operating: -30~75 degrees C
Storage: -40~85 degrees C
Humidity
Operating: 5~90% (non-condensing)
Storage: 5~90% (non-condensing)