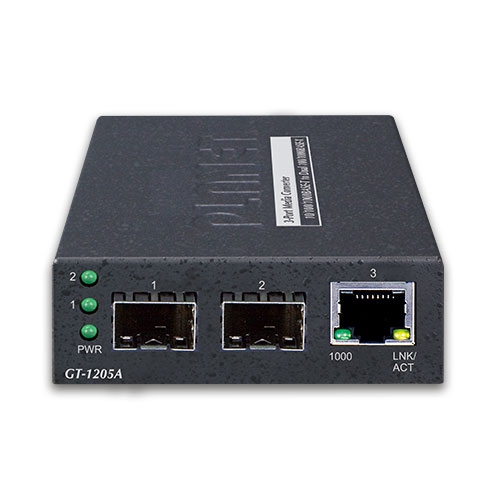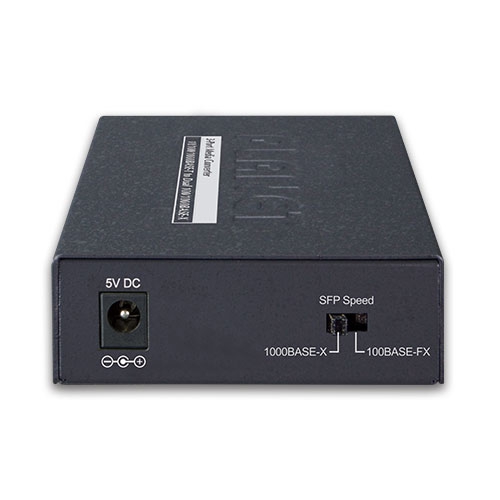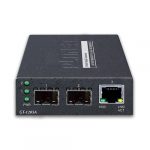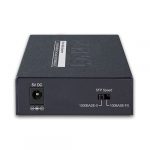 GT-1205A
1-Port 10/100/1000Base-T – 2-Port Gigabit SFP Switch/Redundant Media Converter
Applicazioni
SPECIFICHE
DOWNLOAD
Descrizione
Gigabit Ethernet Distance Extension
The GT-1205A directly converts the media from the Gigabit fiber to twisted pair interface. For example, it can be applied between the Gigabit Fiber Switch and the Gigabit Copper Network Card to perform media conversion and transmission.
With the conversion, you can easily have the transmission distance of Gigabit copper cable extended up to 550 meters or longer (depending on SFP module). Built in with two SFP ports, the GT-1205A can integrate with the existing copper switch to provide Gigabit fiber transmission without the need of replacing with the Gigabit Fiber Switch. With the Gigabit fiber transmission, the GT-1205A enables video stream to be delivered from the camera up to 120km away to local Network Video Recorder.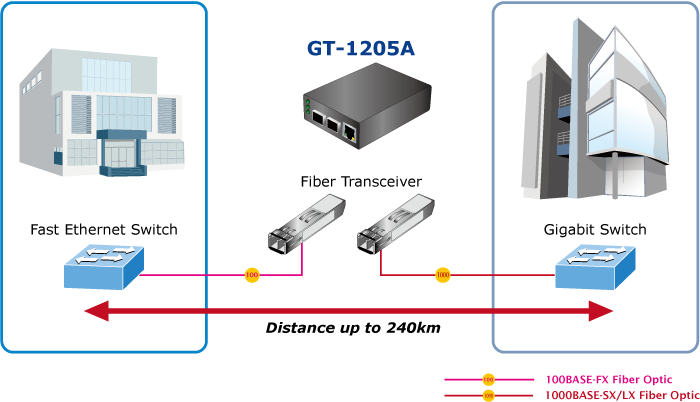 Fiber-Optic Networking for ISPs, System Integrators, Enterprises and Homes
With high performance of data transmission and easy installation, the GT-1205A can build the ISP network solution of FTTH (Fiber to the Home), FTTC (Fiber to the Curb) and FTTB (Fiber to the Building). The GT-1205A is also ideal for small office network environment of enterprises.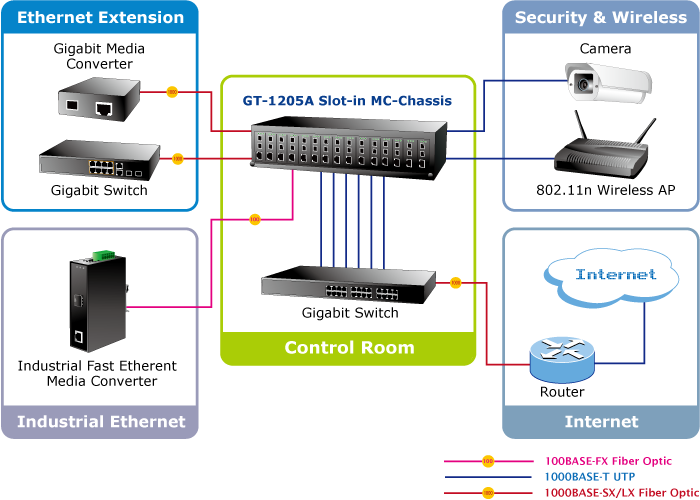 Fault Tolerant Redundant Link for Critical Network Applications
The GT-1205A is designed for optical fiber networks that require rapid link redundancy. With the auto-recovering feature, the redundant media converter responses rapidly for critical applications.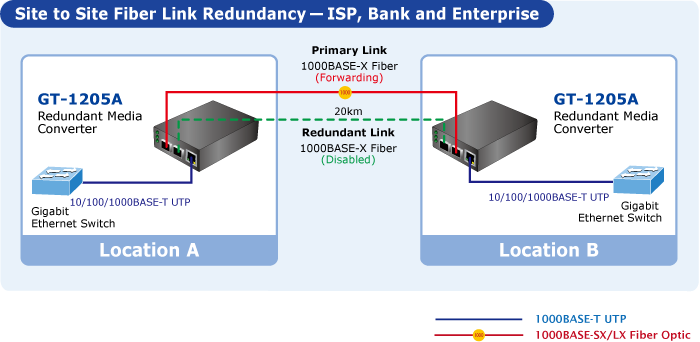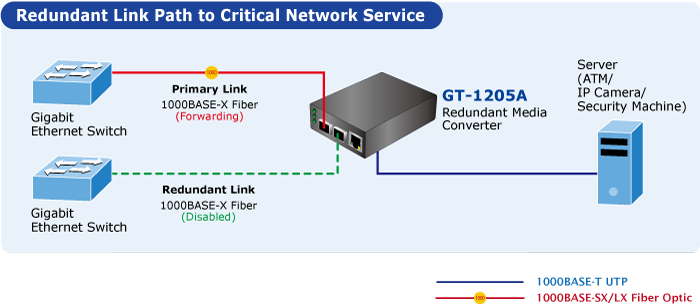 Interface Specifications
Hardware Version
4
Ports
Copper: 1 x 10/100/1000BASE-T port
Fiber: 2 x 100/1000BASE-X SFP slots
Cable
Twisted-pair
10BASE-T: 2-pair UTP Cat3,4,5, up to 100 meters
100BASE-TX: 2-pair UTP Cat 5, 5e up to 100 meters
1000BASE-T: 4-pair UTP Cat 5e,6 up to 100 metersFiber-Optic Cable
1000BASE-SX:
50/125μm or 62.5/125μm multi-mode fiber cable, from 220 and 550 meters to 2km.
1000BASE-LX:
9/125μm single-mode cable, with distance for 10/20/40/80/120km (vary on SFP module)
100BASE-FX:
50/125μm or 62.5/125μm multi-mode fiber cable, up to 2km(vary on SFP module)
9/125μm single-mode cable, with distance for 20/40/60km (vary on SFP module)
Hardware Specifications
Switch Architecture
Store and Forward
Flow Control
Back pressure for Half duplex.
IEEE 802.3x pause frame for Full duplex
Fabric
6Gbps
Throughput (packet per second)
4.4Mpps
Maximum Packet Size
10K bytes
LED Display
System:
One Power LED (Green)
Fiber Port:
Two LNK/ACT LED (Green)
TP Port :
One Speed LED (Green) , One LNK/ACT LED (Orange)
Dimensions (W x D x H)
94 x 70 x 26mm
Weight
180g (device only)
Power Requirement
5V DC, 2A max.
Power Consumption
2.8watts/9.5BTU per hour max.
Environment
Operating environment
0 ~ 50 degrees C
Storage environment
-10 ~ 70 degrees C
Operating Humidity
5 ~ 95%, relative humidity (non-condensing)
Storage Humidity
5 ~ 95%, relative humidity (non-condensing)
Standard Conformance
EMI Safety
FCC Class B, CE
Standard Compliance
IEEE 802.3 10BASE-T
IEEE 802.3u 100BASE-TX/100BASE-FX
IEEE 802.3ab 1000BASE-T
IEEE 802.3z 1000BASE-SX/LX
IEEE 802.3x Flow Control