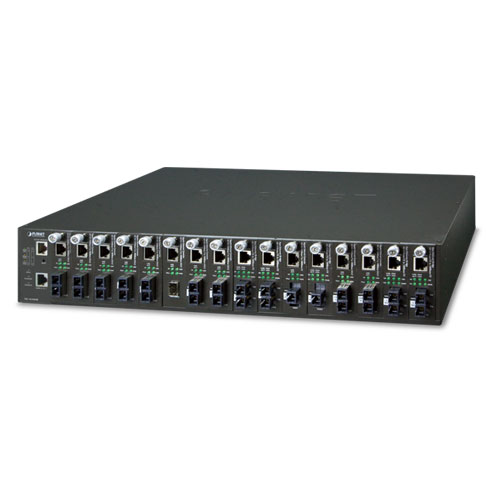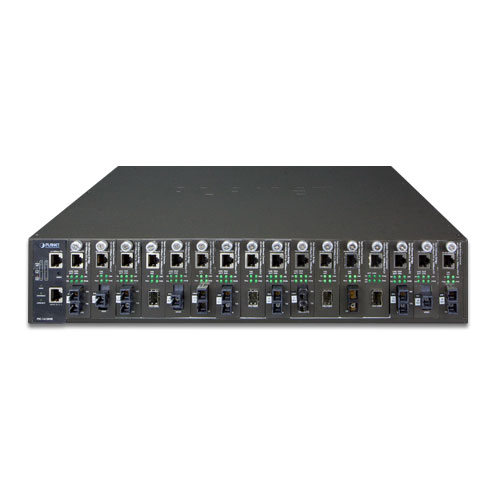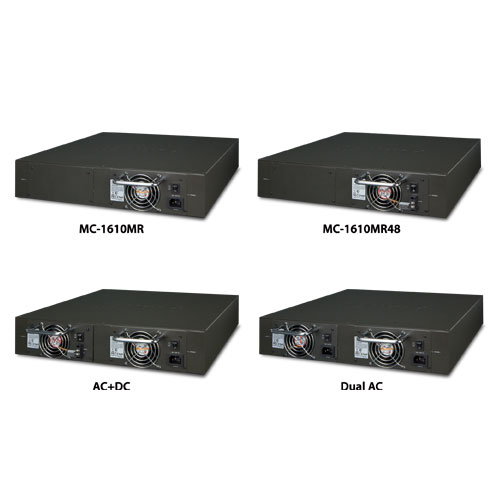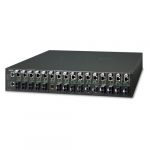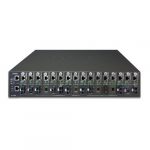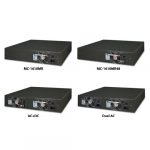 MC-1610MR48
19″ 16-slot SNMP Managed Media Converter Chassis (-48VDC) with redundant power option
Applicazioni
SPECIFICHE
DOWNLOAD
Descrizione
Centralized Media Converter Management
PLANET MC-1610MR series provides the advanced media conversion technology to meet the growing demand for the current network. The Managed Media Converter Chassis allows installation of up to 16 PLANET FST-80x/GST-80x series Fast/Gigabit Ethernet Smart Media Converters with diverse options of fiber connecting type to meet different network applications. It is very flexible for FST-80x/GST-80x media converter series to be installed in the MC-1610MR series for centralized media conversion management. The optional redundant power supply system also ensures non-stop reliable operation.
The MC-1610MR series is designed with hot-swappable slot and provides redundant link function to avoid the shutdown of the entire network. PLANET Managed Media Converter Chassis with FST-80x/GST-80x series Fast/Gigabit Ethernet Smart Media Converters are an ideal solution to building a reliable FTTC (Fiber to the Curb) or FTTB (Fiber to the Building) network solution for ISPs, campuses and enterprises.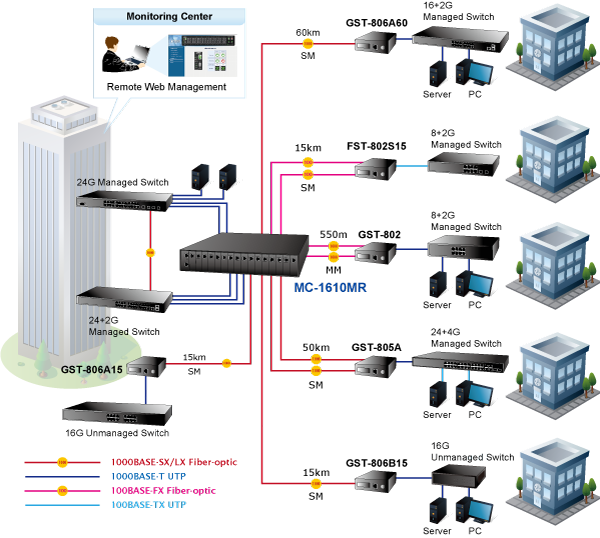 Hardware Specifications
Hardware Version
2
Dimensions (W x D x H)
440 x 350 x 88mm, 2U
Slot
16 open slots (15 x 80 x 26mm, W x D x H)
2 power slots (one fixed, one vacant)
Weight
7kg
Power Requirements
MC-1610MR:
100-240V AC, 1A, 50-60Hz
MC-1610MR48:
-48V DC, 2A,
Range: -40V ~ -60V
Power Output
5V DC per slot, 2A maximum
Power Consumption
MC-1610MR:
10 watts/34BTU (1 x power supply; converters not included)
46.9 watts/160 BTU (full loading)
MC-1610MR48:
5.3 watts/18BTU (1 x power supply; converters not included)
96 watts/327 BTU (full loading)
Operating Environment
0~50 degrees C, 5~90% RH
Storage Environment
-20~70 degrees C, 5~90% RH
Emission
FCC Class A, CE mark
Management Interface
Standards
IEEE 802.3 10BASE-T Ethernet
IEEE 802.3u 100BASE-TX Fast Ethernet
IEEE 802.3ab 1000BASE-T Gigabit Ethernet
IEEE 802.3x Flow Control
Fixed Interface
10/100/1000BASE-T port x 1, RS232 to RJ45 console port x 1, reset button x 1
Speed
Ethernet: 10/20Mbps for half/full-duplex
Fast Ethernet: 100/200Mbps for half-/full-duplex
Gigabit Ethernet: 1000/2000Mbps for full-duplex
LED Indicator
System: MGM, Console, LNK/ACT, PWR ON x 2, PWR FAIL x 2, FAN FAIL x 2
Management
Console, Web, SNMP v1/v2c
SNMP Trap
Cold Start, MC copper link up/down, MC fiber link up/down.