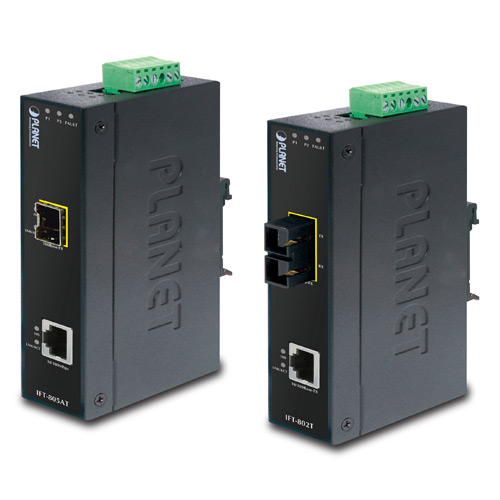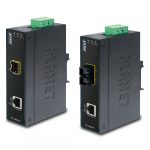 IFT-802T
IP30 Slim type Industrial Fast Ethernet Media Converter SC MM (-40 to 75 degree C)
Applicazioni
SPECIFICHE
DOWNLAOD
Descrizione
IFT-802T
10/100Base-TX a 100Base-FX – 2km (-40~75 degrees C)
Rete di trasporto
La serie di Media Converter industriale IFT-80xT, offre elevata affidabilità e sicurezza per garantire il funzionamento industriale continuo in ambienti difficili, come quadri di controllo del trasporto, impianti di produzione o ambienti in cui si verificano temperature estremamente alte o basse. Negli ambienti di reti industriali si richiede che ogni dispositivo di rete deve funzionare senza interruzioni in condizioni rischiose. Se le apparecchiature industriali non riescono a connettersi alla rete, questo potrebbe influenzare l'intero funzionamento dei sistemi industriali e causare quindi grosse perdite finanziarie. Con il Media convertitore industriale della serie IFT-80xT, che soddisfa tutti i requisiti delle applicazioni industriali, i clienti possono godere di elevata affidabilità, capacità di recupero rapido e funzionamento sicuro della rete Ethernet.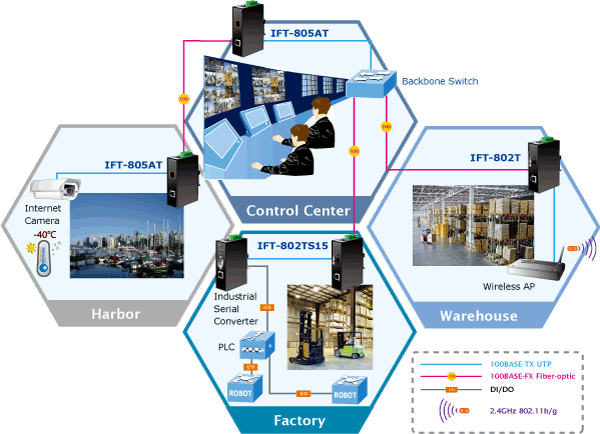 Networking in fibra ottica per ISP, imprese ed abitazioni
Con prestazioni stabili di trasmissione dei dati e facilità di installazione, i Media Converter di questa serie sono in grado di realizzare una soluzione di rete ISP in tecnologia FTTH (Fiber to the Home), FTTC (Fiber to the Curb) per gli ISP o FTTB (Fiber to the Building ) per le imprese con un ambiente di rete small office.
Hardware Specifications
10/100Base-TX Port
1 RJ-45 auto-MDI / MDI-X port
100Base-FX Port
IFT-802T: 1 SC interface
IFT-802TS15: 1 SC interface
IFT-805AT: 1 SFP slot
Fiber Port Type
IFT-802T: SC / multi-mode
IFT-802TS15: SC / single-mode
IFT-805AT: Vary on module
Cable Distance
IFT-802T: 2km
IFT-802TS15: 15km
IFT-805AT: Vary on module
Optical Frequency
IFT-802T: 1310nm
IFT-802TS15: 1310nm
IFT-805AT: Vary on module
Launch Power (dBm)
Max
IFT-802T: -14
IFT-802TS15: 0Min
IFT-802T: -20
IFT-802TS15: -20

Vary on module
IFT-805AT

Receive Sensitivity (dBm)
IFT-802T: -32
IFT-802TS15: -32
IFT-805AT: Vary on module
Maximum Input Power (dBm)
IFT-802T: -14
IFT-802TS15: 0
IFT-805AT: Vary on module
Dimensions (W x D x H)
135 x 85 x 32 mm
Weight
430g
Installation
DIN rail kit and wall mount ear
Maximum Frame Size
1522bytes packet size
Flow Control
Back pressure for half duplex, IEEE 802.3x pause frame for full duplex
Enclosure
IP-30 slim type metal case
LED Indicator
System:
•Power 1 (Green)
•Power 2 (Green)
•Fault (Green)
1 x copper port:
•10/100 (Green)
•LNK/ACT (Green)
1 x 100FX port:
•100 (Green)
•LNK/ACT (Green)
Power Input
12 to 48V DC redundant power with polarity reverse protection function
Power Consumption
3 watts/ 10BTU (maximum)
Protection
ESD (Ethernet): 6KV DC
Surge (Power): 6KV DC
Speed
Twisted-pair:
•10/20Mbps for half / full-duplex
•100/200Mbps for half / full duplex
Fiber-optic:
•200Mbps for full-duplex
Network cables
10/100Base-TX:
•2-pair UTP Cat. 3, 4, 5 (100 meters, max.)
•EIA/TIA-568 100-ohm STP (100 meters, max.)
100Base-FX:
•IFT-802T: Multi-mode optical fiber 62.5/125μm / 50/125μm (2km)
•IFT-802TS15: Single-mode optical fiber 9/125μm (15km)
•IFT-805AT: SFP slot (depending on SFP module)
Standards Conformance
Emissions
FCC Class A, CE Class A
Standards Compliance
IEEE 802.3 10Base-T
IEEE 802.3u 100Base-TX / 100Base-FX
IEEE 802.3x flow control and back pressure
Stability Testing
IEC60068-2-32 (Free Fall)
IEC60068-2-27 (Shock)
IEC60068-2-6 (Vibration)
Environment
Operating Temperature
-40~75 degrees C
Operating Humidity
5~95% non-condensing
Storage Temperature
-40~85 degrees C
Storage Humidity
5~95% non-condensing