Applicazioni
SPECIFICHE
DOWNLOAD
Descrizione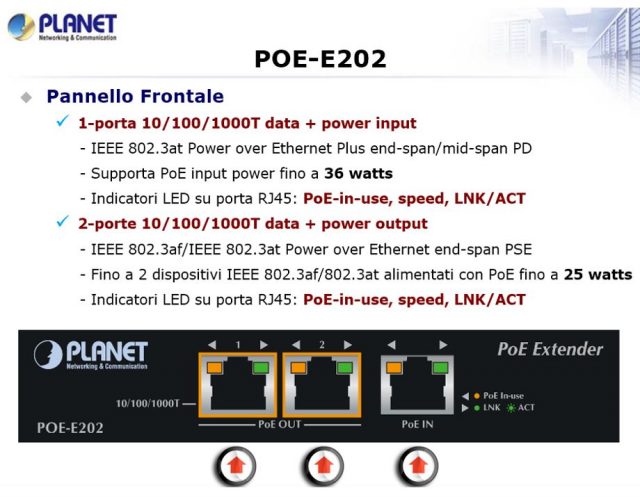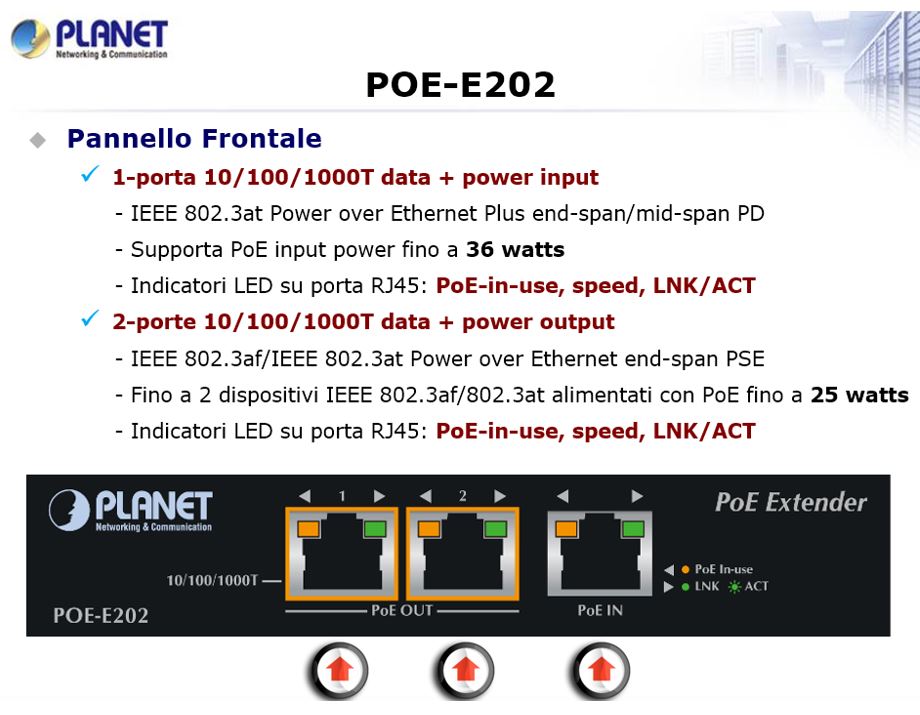 Il POE-E202, progettato espressamente per applicazioni PoE da punto a multipunto, fornisce una soluzione semplice per aggiungere porte PoE senza necessità di cavi ulteriori e permette applicazioni di rete flessibili senza richiedere un alimentatore esterno.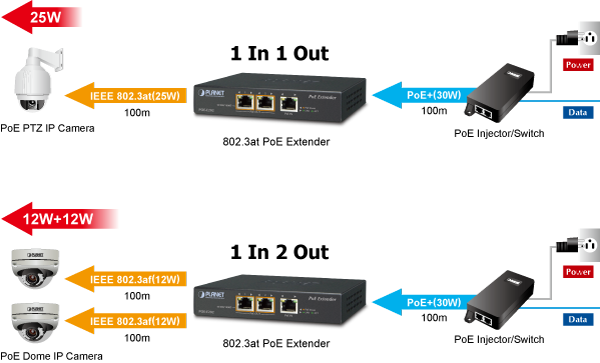 Installazione Plug and Play
POE-E202 si installa facilmente, con un semplice plug and play. Viene utilizzato tra un PSE (dispositivo fonte di alimentazione) e un PD (dispositivo alimentato); inietta alimentazione al PD senza influire sulle prestazioni di trasmissione dei dati e offre una soluzione economica e veloce per raddoppiare lo standard del PoE da 100 a 200 metri.
Delle 3 porte RJ45 in dotazione, una porta "PoE IN" funziona come ingresso PoE (dati e alimentazione) e le altre due porte "PoE OUT" funzionano come uscita PoE. La porta "PoE OUT" è anche l'iniettore di potenza che trasmette tensione DC su cavo Cat5/5e/6 e trasferisce i dati e l'alimentazione simultaneamente tra il PSE e il PD.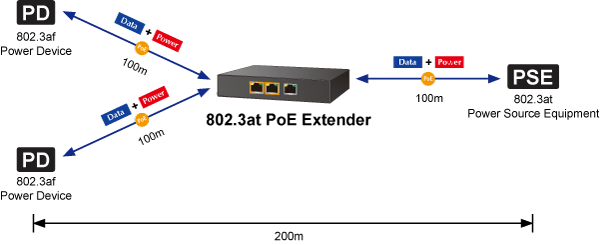 Un'unica fonte di alimentazione per più dispositivi alimentati
Il POE-E202 consente di sfruttare i vantaggi della sorveglianza IP e della distribuzione di telecamere IP a lunga distanza, Nel caso di utenti che abbiano già configurato la maggior parte della propria rete e vogliono espandere le comunicazioni di rete, superando il limite della distanza dei cavi, il POE-E202 rappresenta una soluzione molto utile, permettendo il collegamento a dispositivi collocati in luoghi in cui il networking tradizionale non lo consente.

Interfaces
PoE IN
1 x 10/100/1000BASE-T Ethernet with IEEE 802.3at PoE "Data + DC power" in
auto MDI/MDI-X, auto-negotiation RJ45 connector
PoE OUT
2 x 10/100/1000BASE-T Ethernet with IEEE 802.3at/802.3af PoE "Data + DC power" out
auto MDI/MDI-X, auto-negotiation RJ45 connector
Power over Ethernet
PoE Standard
"PoE In" Port
IEEE 802.3at Power over Ethernet Plus end-span/mid-span PD class 4 PD
Per "PoE Out" Port
IEEE 802.3at Power over Ethernet Plus end-span PSE
IEEE 802.3af Power over Ethernet end-span PSE
PoE Power Supply Type
End-span (Type A)
PoE Power
"PoE In" Port
52~56V DC, max. 30.8 watts
Per "PoE Out" Port
44~55V DC, max. 25 watts
Power Pin Assignment
"PoE In" Port
1/2 (+), 3/6 (-); 4/5 (+), 7/8 (-)
Per "PoE Out" Port
1/2 (+), 3/6 (-)
Hardware Specifications
Data Rate
10/100/1000Mbps
MAC Address Table
2K
Data Buffer
2Mbits
Switch Architecture
Store-and-Forward
Switch Fabric
6Gbps
Switch Throughput
4.46Mpps @ 64 bytes
Jumbo Frame
10KB
Flow Control
IEEE 802.3x pause frame for full duplex
Back pressure for half duplex
LED Indicators
"PoE In" Port: PoE-in-Use x 1 (Orange), LNK/ACT x 1 (Green)
"PoE Out" Port 1: PoE-in-Use x 1 (Orange), LNK/ACT x 1 (Green)
"PoE Out" Port 2: PoE-in-Use x 1 (Orange), LNK/ACT x 1 (Green)
Protection
ESD (Ethernet): 2KV (TBD)
Surge (EFT for power) : 2KV (TBD)
Enclosure
Metal
Installation
Wall mountable
Dimensions (W x D x H)
140 x 77 x 28 mm
Weight
234g
Power Requirements
IEEE 802.3at compliant with voltage within 52V-56V DC
Power Consumption
1.6 watts/5.5BTU (System on with PoE input)
2.2 watts/7.5BTU (Ethernet full loading without PoE function)
36 watts/122.8BTU (Full loading with PoE function)
Network Cable
10BASE-T: 4-pair UTP Cat. 5 up to 100m (328ft)
100BASE-TX: 4-pair UTP Cat. 5 up to 100m (328ft)
1000BASE-T: 4-pair UTP Cat. 5e, 6, up to 100m (328ft)
EIA/TIA-568 100-ohm STP (100m, 328ft)
Standard Conformance
Regulatory Compliance
FCC Part 15 Class A, CE
Standard Compliance
IEEE 802.3 10BASE-T Ethernet
IEEE 802.3u 100BASE-TX Fast Ethernet
IEEE 802.3ab 1000BASE-T Gigabit Ethernet
IEEE 802.3af Power over Ethernet
IEEE 802.3at Power over Ethernet Plus
IEEE 802.3x Flow Control
Environment
Operating
Temperature: 0 ~ 50 degrees C
Relative Humidity: 5 ~ 95% (non-condensing)
Storage
Temperature: -10 ~ 70 degrees C
Relative Humidity: 5 ~ 95% (non-condensing)