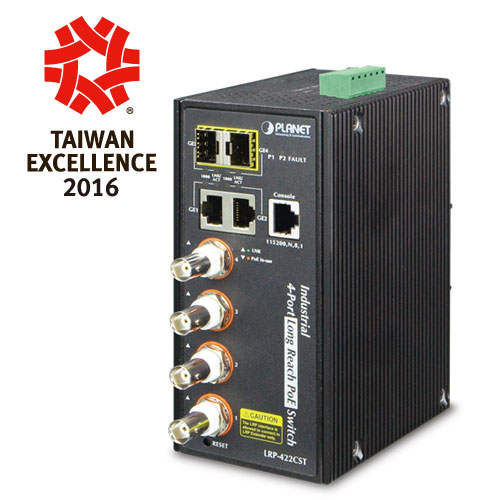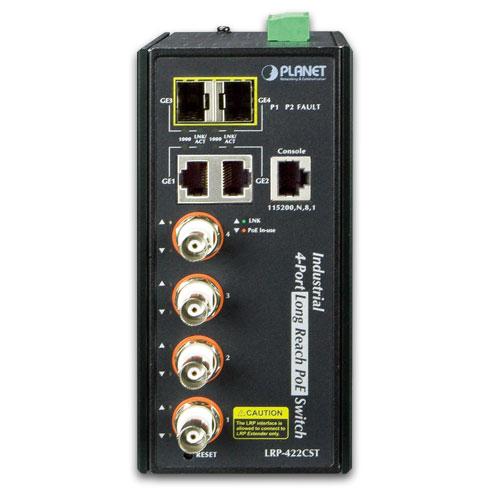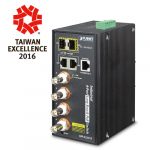 LRP-422CST
IP30, Industrial IPv4/IPv6, 4-Port Coax + 2-Port 10/100/1000T + 2-Port 100/1000X SFP Long Reach POE over Coaxial Managed Switch (-40 to 75 C)
Applicazioni
SPECIFICHE
DOWNLOAD
Descrizione
Directly Upgrade Analog CCTV System to IP-based Security Solution
Under current CCTV system, if you need more channels and higher resolution in longer distance but the CCTV system cannot fulfill your demands, you can use the LRP-422CST via the existing coaxial cable by working with the LRP-101CE Long Reach PoE Extender to instantly establish PoE IP camera infrastructure and to easily upgrade IP camera infrastructure to up to 1024 channels in the future.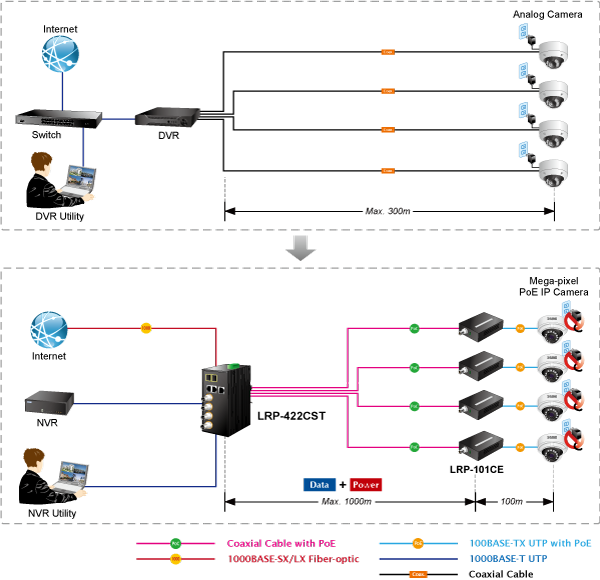 Long Reach PoE IP Surveillance Solution
The LRP-422CST provides robust Long Reach PoE features to prevent network interruptions and extend the transmission of data and power via coaxial cable for up to 1km by working with the LRP-101CE Long Reach PoE Extender. It incorporates PLANET's new Long Reach PoE technology into customer's IP surveillance network to increase the distance of system transmission but to decrease the cost of installation. Applying the Long Reach Power over Ethernet functions in the LRP-422CST, the LRP-101CE can directly connect with any IEEE 802.3at/af end-nodes like IP cameras. Furthermore, the power management of the IP camera system can be centrally controlled by the LRP-422CST.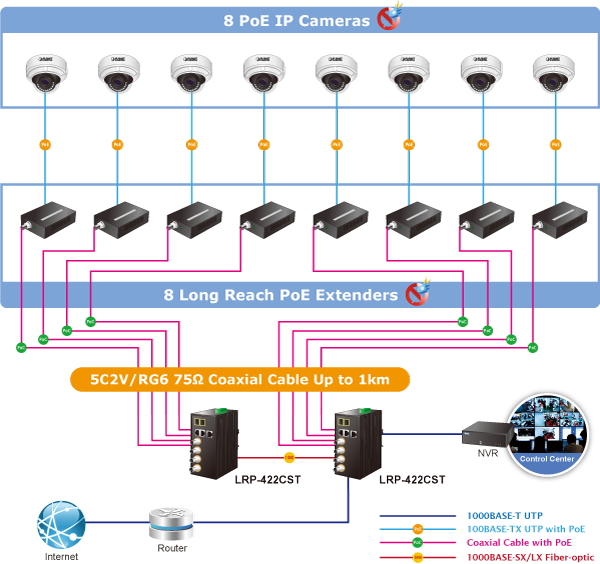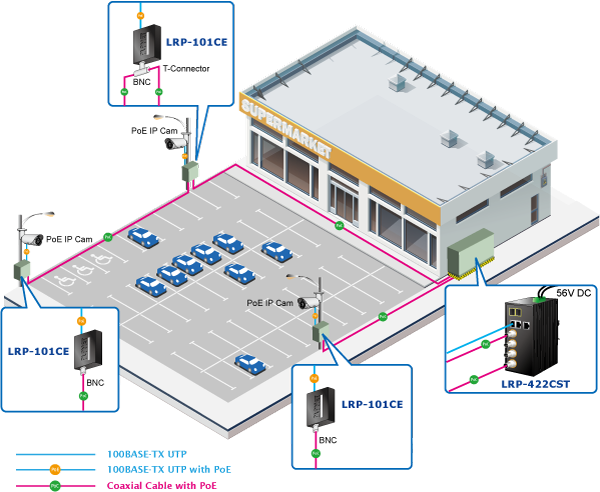 Hardware Specifications
Ethernet Interfaces
■ Copper
• 2 x 10/100/1000BASE-T RJ45
• Auto-negotiation/Auto-MDI/MDI-X■ Fiber Optic
• 2 x 100/1000BASE-X SFP slot
• Supports 100/1000Mbps dual mode and DDM

■ Jumbo Frame
• 10Kbytes with GE1 to GE4

Long Reach PoE Interfaces
■ Connectivity
• 4 x BNC female connectors
• Long Reach PoE over coaxial PSE (Power Source Equipment)
– BNC center pole : DC+/Hi
– BNC shield : DC -/Lo■ Power Output
• Per port 48~56V DC, 36 watts (max.)

■ Total Power Budget
• 150 watts (max.)

■ Cabling
• Coaxial cable: 75 ohm
• RG-6/U cable (Recommended)

■ Maximum Distance
• Max. 200m with PoE+ output (1,640ft.)
• Max. 400m with PoE output (2,624ft.)
• Max. 1200m without PoE output (3,937ft.)

■ Long Reach Ethernet Standard
• IEEE 1901

■ Modulation Type
• Wavelet-OFDM

■ Security
• 128-bit AES encryption

■ Frequency Band
• 2 ~ 28MHz

■ Performance

RG-6/U
Distance

LRP-101CE
PoE Output@25 degrees C*

200m

93.9Mbps

93.5Mbps

21.7W

400m

90.4Mpbs

90.3Mbps

19.04W

600m

82.1Mbps

80Mbps

13.5W

800m

69.9Mbps

69.4Mbps

10.35W

1000m

52.2Mbps

50.2Mbps

8.01W

1200m

31.7Mbps

37.8Mbps

—

* The actual data rate and PoE output vary on the quality of the copper wire and environmental factors.The performance result above is based on the testing via the RG-6/U coaxial cable.

** TX: The LRP-422CST to the LRP-101CE
RX: The LRP-101CE to the LRP-422CST

■ Multiple Nodes
• Up to 4 LRP extenders within 1km RG-6/U coaxial cable*

* The actual extender nodes vary on the quality of the copper wire and environmental factors.

■ LRP Compatibility
• LRP-101CE: 1-Port 10/100TX PoE PSE + 1-Port Coax Long Reach PoE Extender

Console
1 x RS232-to-RJ45 serial port (115200, 8, N, 1)
Switch Architecture
Store-and-Forward
Switch Fabric
8.8Gbps/non-blocking
Address Table
8K entries
Shared Data Buffer
4.1 megabits
Flow Control
IEEE 802.3x pause frame for full-duplex
Back pressure for half-duplex
Reset Button
< 5 sec: System reboot
> 5 sec: Factory default
EST Protection
6KV DC
ESD Protection
6KV DC
Enclosure
IP30 aluminum case
Installation
DIN-rail kit and wall-mount kit
Connector
Removable 6-pin terminal block for power input
Pin 1/2 for Power 1; Pin 3/4 for fault alarm; Pin 5/6 for Power 2
Alarm
One relay output for power failure. Alarm Relay current carry ability: 1A @ 24V AC
LED
System:
Power 1 (Green)
Power 2 (Green)
Fault Alarm (Red)
Per LRP Port:
LNK/ACT (Green)
PoE In-use (Orange)
Per Gigabit Port:
LNK/ACT (Green)
1000(Orange)
Dimensions (W x D x H)
107 x 72 x 152 mm
Weight
1,150g
Power Requirements
48 to 56V DC
Power Consumption
9.5 watts/32.42 BTU (System on)
165 watts/563.0 BTU (Full loading)
Layer 2 Functions
Port Mirroring
TX/RX/both
Many-to-1 monitor
VLAN
802.1Q tagged-based VLAN
Up to 256 VLAN groups, out of 4094 VLAN IDs
802.1ad Q-in-Q tunneling
Voice VLAN
Protocol VLAN
Private VLAN (Protected port)
GVRP
Link Aggregation
IEEE 802.3ad LACP and static trunk
Supports 4 trunk groups with 4 ports for each group
Spanning Tree Protocol
STP/RSTP/MSTP
IGMP Snooping
IGMP (v2/v3) Snooping
IGMP Querier
Up to 256 multicast groups
MLD Snooping
MLD (v1/v2) Snooping, up to 256 multicast groups
Access Control List
IPv4/IPv6 IP-based ACL / MAC-based ACL
QoS
8 mapping IDs to 8 level priority queues
– Port number
– 802.1p priority
– 802.1Q VLAN tag
– DSCP field in IP packet
Traffic classification based, strict priority and WRR
Security
IEEE 802.1X port-based authentication
Built-in RADIUS client to co-operate with RADIUS server
RADIUS/TACACS+ user access authentication
IP-MAC port binding
MAC filter
Static MAC address
DHCP Snooping and DHCP Option82
STP BPDU guard, BPDU filtering and BPDU forwarding
DoS attack prevention
ARP inspection
IP source guard
Management Functions
Basic Management Interfaces
Web browser/Telnet/SNMP v1, v2c
Firmware upgrade by HTTP/TFTP protocol through Ethernet network
Remote/Local Syslog
System log
LLDP protocol
SNTP
Secure Management Interfaces
SSH, SSL, SNMP v3
SNMP MIBs
RFC 1213 MIB-II
RFC 1215 Generic Traps
RFC 1493 Bridge MIB
RFC 2674 Bridge MIB Extensions
RFC 2737 Entity MIB (Version 2)
RFC 2819 RMON (1, 2, 3, 9)
RFC 2863 Interface Group MIB
RFC 3635 Ethernet-like MIB
Standards Conformance
Regulation Compliance
FCC Part 15 Class A, CE
Standards Compliance
IEEE 1901 Broadband Power Line
IEEE 802.3 10BASE-T
IEEE 802.3u 100BASE-TX/100BASE-FX
IEEE 802.3z Gigabit SX/LX
IEEE 802.3ab Gigabit 1000T
IEEE 802.3x flow control and back pressure
IEEE 802.3ad port trunk with LACP
IEEE 802.1D Spanning Tree Protocol
IEEE 802.1w Rapid Spanning Tree Protocol
IEEE 802.1s Multiple Spanning Tree Protocol
IEEE 802.1p Class of Service
IEEE 802.1Q VLAN tagging
IEEE 802.1X Port Authentication Network Control
IEEE 802.1ab LLDP
RFC 768 UDP
RFC 793 TFTP
RFC 791 IP
RFC 792 ICMP
RFC 2068 HTTP
RFC 1112 IGMP v1
RFC 2236 IGMP v2
RFC 3376 IGMP v3
RFC 2710 MLD v1
RFC 3810 MLD v2
Environment
Operating
Temperature: -20 ~ 75 degrees C
Relative Humidity: 5 ~ 95% (non-condensing)
Storage
Temperature: -40 ~ 85 degrees C
Relative Humidity: 5 ~ 95% (non-condensing)