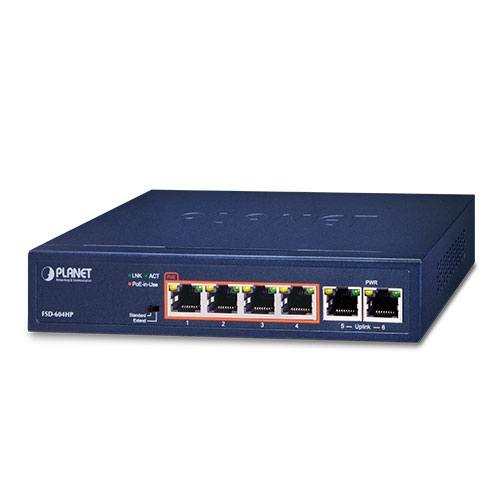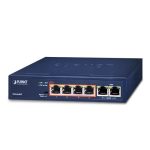 FSD-604HP
4-Port 10/100TX 802.3af/at PoE + 2-Port 10/100TX Desktop Switch (60 Watts)
Applicazioni
SPECIFICHE
DOWNLOAD
Descrizione
Ordering Information

FSD-604HP

4-Port 10/100TX 802.3af/at PoE + 2-Port 10/100TX Desktop Switch
Centralized Power Distribution for HD IP Surveillance System
PLANET FSD-604HP Desktop Switch provides four 802.3at PoE+ ports for catering to small-scale IP surveillance networks at a lower total cost. With dual 10/100BASE-TX uplink ports, the recorded HD video files from the 4 PoE IP cameras powered by the FSD-604HP are saved in the 4-channel NVR system. Its surveillance software performs comprehensive security monitoring and manages the surveillance system in the local LAN or remote site via Internet.
The FSD-604HP's advanced features are as follows:
4-port PoE, 60-watt PoE budget
Two 10/100Mbps uplink ports
Can extend distance of up to 250m in the extend mode
30-watt power output at speed of 10Mbps
Internal AC power, fanless design
Two 10/100Mbps Uplink Ports
The FSD-604HP comes with two uplink ports with 100Mbps transfer rate to ensure high-speed data and video transmission, reliable assurance for connection between the surveillance system and outdoor network where the four PoE+ ports can be used to their full potential.
Innovative Port-based VLAN Protection
The FSD-604HP features "Port-based VLAN Protection" where ports can be isolated from each other via one DIP switch. This can help to prevent the IP camera's multicast or broadcast storm from influencing each other.
Distance Extended for Transmission of Power and Data
The built-in solid DIP switch provides "Standard" and "Extend" operation modes. The FSD-604HP operates as a normal IEEE 802.3at/af PoE Switch in the "Standard" operation mode. In the "Extend" operation mode, the FSD-604HP operates on a per-port basis in 10Mbps duplex mode but can support 30-watt PoE power output over a distance of up to 250 meters overcoming the 100m limit on Ethernet UTP cable. With this brand-new feature, the FSD-604HP provides an additional solution for 802.3at/af PoE distance extension, thus saving the cost of Ethernet cable installation.
Robust Protection
The FSD-604HP provides contact discharge of ±4KV DC and air discharge of ±6KV DC for Ethernet ESD protection. It also supports ±4KV surge immunity to improve product stability and protects users' networks from devastating ESD attacks, making sure the flow of operation does not fluctuate.
Environment-friendly, Fanless Design for Silent Operation
The FSD-604HP comes with a desktop-sized, compact metal housing, making the placement of the unit convenient. It features a ventilated construction in which a cooling fan is not necessary, thereby making its operation noiseless. Moreover, the FSD-604HP is able to operate reliably and stably in any environment without affecting its performance. The deployment of PoE PDs with constant power feeding can be easily and quickly done.
Easy Cable Connection
With data switching and Power over Ethernet integrated into one unit, the FSD-604HP reduces cabling requirements and eliminates the need for electrical outlets on the wall, ceiling or any unreachable place. A wire that carries both data and power can lower the installation costs, simplify the installation effort and eliminate the need for electricians or extension cords. With 4 PoE interfaces, the FSD-604HP is ideal for small businesses and workgroups making the deployment of the PoE facility including wireless access points, IP-based surveillance camera and IP phones and door phone in any places easier, more efficient and more cost-effective.
Hardware Specifications
Network Connector
6-port RJ45 for 10/100BASE-TX, auto MDI/MDIX
PoE Inject Port
4-port with 802.3af/at PoE injector function (Port-1 to Port-4)
LED Display
System:
Power (Orange)Per PoE port:
PoE (Orange, Port 1 to Port 4)
LNK/ACT (Green, Port 1 to Port 6)
DIP Switch
100m distance in standard mode
250m distance in extend mode (based on the cable category)
Switch Architecture
Store and Forward switch architecture
MAC Address Table
2K MAC address table with auto learning function
Switch Fabric
1.2Gbps
Switch Throughput
0.89Mpps @64bytes
Maximum Packet Size
1536bytes
Flow Control
Back pressure for half duplex. IEEE 802.3x pause frame for full duplex
Power Requirements
AC 100~240V, 2A max.
Power Consumption
Max. 63 watts, 214 BTU
Dimensions (W x D x H)
168 x 93 x 32 mm
Weight
499g
ESD Protection
Contact discharge of ±4KV DC
Air discharge of ±6KV DC
Surge Immunity
±4KV
Power over Ethernet
PoE Standard
IEEE 802.3af Power over Ethernet/PSE
IEEE 802.3at Power over Ethernet Plus/PSE
PoE Power Supply Type
End-span
Power Pin Assignment
1/2(+), 3/6(-)
PoE Power Output
Per Port 52V DC, 300mA. max. 15.4 watts (IEEE 802.3af)
Per Port 52V DC, 600mA. max. 30 watts (IEEE 802.3at)
PoE Power Budget
60 watts
Number of PDs, 7 watts
4
Number of PDs, 15.4 watts
4
Number of PDs, 30 watts
2
Standard Conformance
EMI Safety
CE, FCC
Standard Compliance
IEEE 802.3 Ethernet
IEEE 802.3u Fast Ethernet
IEEE 802.3x Flow Control
IEEE 802.3af Power over Ethernet
IEEE 802.3at Power over Ethernet Plus
Environment
Operating Environment
0 ~ 50 degrees C
Storage Environment
-10 ~ 70 degrees C
Operating Humidity
5 ~ 95%, relative humidity, non-condensing
Storage Humidity
5 ~ 95%, relative humidity, non-condensing