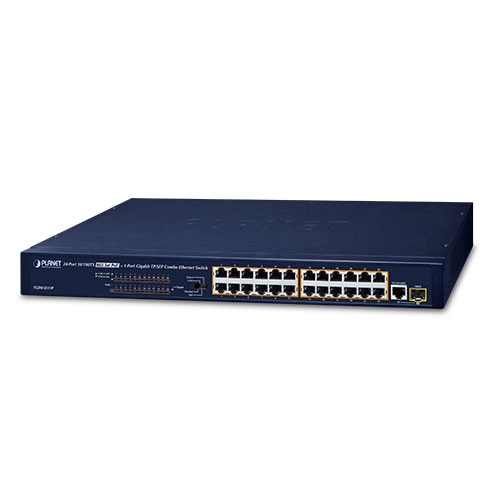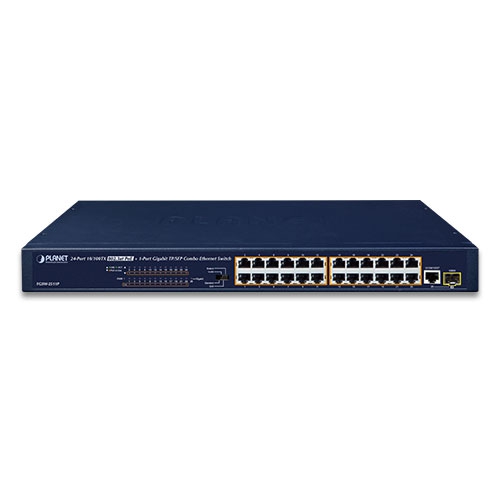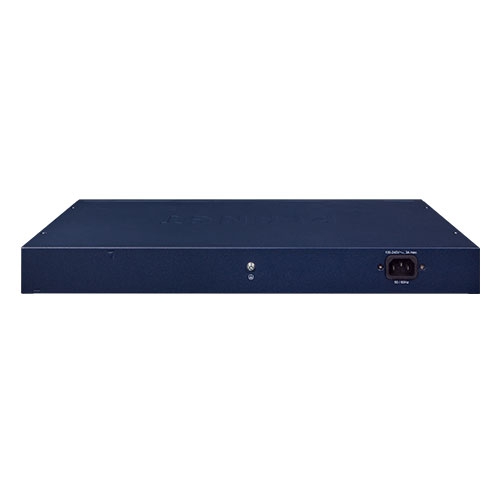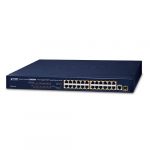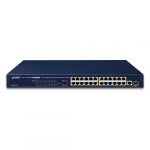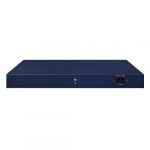 FGSW-2511P
24-Port 10/100TX 802.3at PoE + 1-Port Gigabit TP/SFP combo Ethernet Switch (190W PoE Budget, Standard/VLAN/QoS/Extend mode)
Applicazioni
SPECIFICHE
DOWNLOAD
Descrizione
Perfectly Integrated Solution for IP PoE Camera and NVR System
Particularly designed for the growing popular IP Surveillance applications, the FGSW-2511P 802.3at PoE Switch is positioned as a Surveillance Switch for quick and easy PoE IP camera deployment with power feeding. The FGSW-2511P provides both 802.3at and 802.3af PoE functions along with 24 10/100BASE-TX ports featuring 30-watt 802.3at or 15.4-watt 802.3af PoE in RJ45 copper interfaces, and 1 extra Gigabit TP or Gigabit SFP uplink interface supporting high-speed transmission of surveillance images and videos.
IP Office Department/Workgroup PoE Switch
With the business office expansion, the additional telephones required can be installed with lower cost via the implementation of PoE IP telephony system than that of the traditional circuit wiring telephony system. The FGSW-2511P 802.3af/at PoE Switch helps enterprises to create an integrated data, voice, and powered network. The IEEE 802.3af compliant IP phones can be installed without an additional power cable because the power can be provided via the standard Ethernet cable from the connected FGSW-2511P.
The wireless AP group, PoE IP phones and analog telephony adapter work perfectly with the FGSW-2511P, which injects power through the Ethernet cables. With the FGSW-2511P, IP telephony deployment becomes more reliable and cost-effective, thus helping enterprises save tremendous costs when upgrading from the traditional telephony system to IP telephony communications infrastructure.
Hardware Specifications
10/100Mbps Ports
24 10/100BASE-TX MDI/MDI-X RJ45 ports
Gigabit Ports
1 10/100/1000BASE-T MDI/MDI-X RJ45 port
SFP Slot
1 1000BASE-X SFP interface, shared with Gigabit RJ45 copper
PoE Inject Port
24-port with 802.3at PoE injector function (Port-1 to Port-24)
LED Display
System:
Power (Green)
10/100BASE-TX RJ45 Interface:
LNK/ACT (Green, Port-1 to Port-24)
PoE (Amber, Port-1 to Port-24)
10/100/1000BASE-T RJ45 and 1000BASE-X combo Interface:
LNK/ACT (Green, Port 25)
DIP Switch
4 operation modes:
Standard/QoS/VLAN/Extend
Switch Architecture
Store and Forward
MAC Address Table
16K MAC address table with auto learning function
Switch Fabric
6.8Gbps
Switch Throughput
5.06Mpps @64bytes
Maximum Packet Size
16K bytes
Flow Control
Back pressure for half duplex
IEEE 802.3x pause frame for full duplex
Power Requirements
AC 100~240V, 3A max.
Power Consumption
205 watts, 699.5 BTU
Dimensions (W x D x H)
440 x 200 x 45 mm
Weight
2419 g
ESD Protection
Contact discharge of ±6KV DC
Air discharge of ±8KV DC
Surge Immunity
±4KV
Power over Ethernet
PoE Standard
IEEE 802.3at Power over Ethernet Plus/PSE
PoE Power Supply Type
Mid-span
Power Pin Assignment
4/5 (+), 7/8(-)
PoE Power Output
Per Port 52V DC, 600mA. max. 30 watts (IEEE 802.3at)
Per Port 52V DC, 300mA. max. 15.4 watts (IEEE 802.3af)
PoE Power Budget
190 watts
Number of PDs, 7 watts
24
Number of PDs, 15 watts
12
Number of PDs, 30 watts
6
Standard Conformance
EMI Safety
CE, FCC
Standard Compliance
IEEE 802.3 Ethernet
IEEE 802.3u Fast Ethernet
IEEE 802.3ab Gigabit 1000BASE-T
IEEE 802.3z Gigabit SX/LX
IEEE 802.3x Flow Control
IEEE 802.3af Power over Ethernet
IEEE 802.3at Power over Ethernet Plus
IEEE 802.3z Energy Efficient Ethernet
Environment
Operating Environment
0 ~ 50 degrees C
Storage Environment
-10 ~ 70 degrees C
Operating Humidity
5 ~ 95%, relative humidity, non-condensing
Storage Humidity
5 ~ 95%, relative humidity, non-condensing