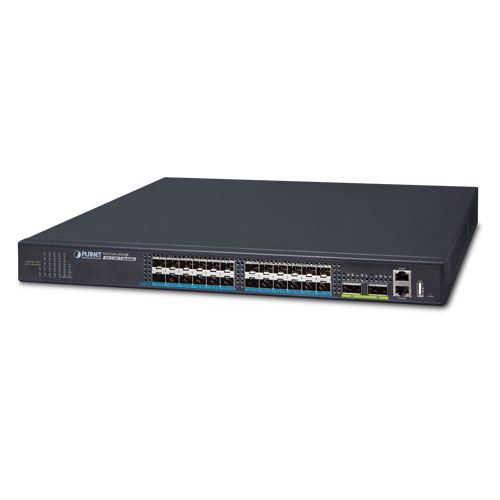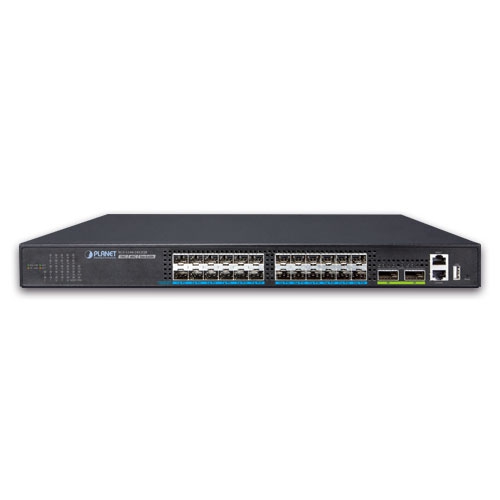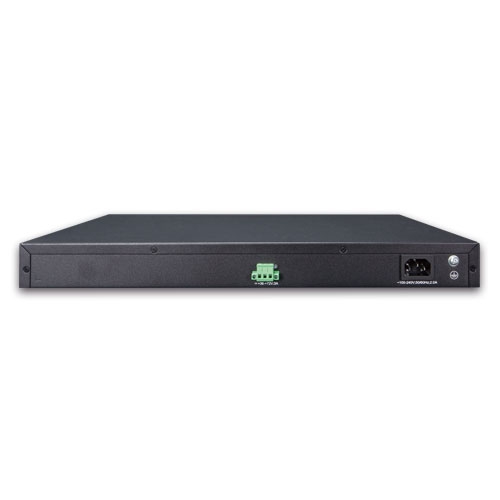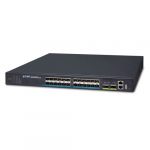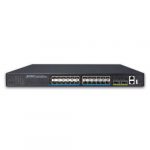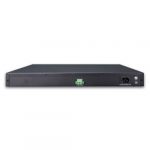 XGS-5240-24X2QR
L2+/L4 24-Port 10G SFP + 2-port 40G QSFP + 1-Port USB 2.0 + 1-Port RJ45 Type Consol + 1-Port RJ45 10/100/1000Base-T Management. Up to 4 Units in Hardware Stacking, Up to 24 Units in IP Stacking. With 36-72V DC Redundant Power (Optional), Hardware Layer3 IPv4/IPv6 Static Routing
Applicazioni
SPECIFICHE
DOWNLOAD
Descrizione
High Availability Mesh Networking Solution for Big Data System
By means of improving the technology of optical fiber Ethernet with highly-flexible, highly-extendable and easy-to-install features, the XGS-5240-24X2QR offers up to 640Gbps data exchange speed via optical fiber interface and the transmission distance can be extended to 120km (single-mode fiber). The XGS-5240-24X2QR features strong rapid self-recovery capability to prevent interruptions and external intrusions. It incorporates Multiple Spanning Tree Protocol (802.1s MSTP) into customer's automation network to enhance system reliability and uptime. The XGS-5240-24X2QR is the ideal solution for data centers, service providers and telecoms to build redundant connection and establish high bandwidth for Big Data server farm.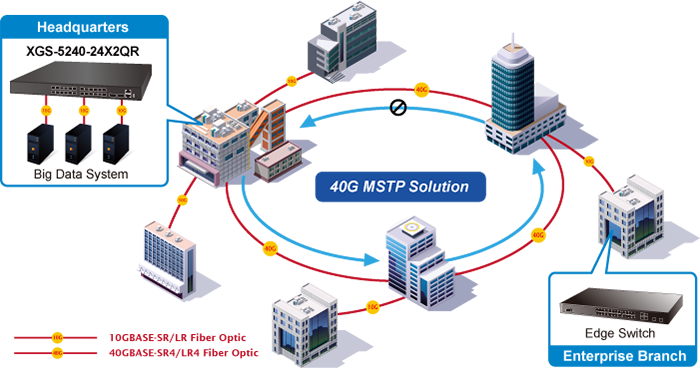 Triple Play Service of Backbone Network Solution
In telecommunications, triple play service is a marketing term for the provisioning over a single broadband connection of more bandwidth-intensive services, such as broadband Internet access, television and the latency-sensitive telephone. The XGS-5240-24X2QR provides up to 640Gbps bandwidth to exchange data, voice and video packets via fiber patch cable. It's the suitable aggregation switch for ISPs and Telcos that builds a heavy traffic backbone network infrastructure.
Layer 3 VLAN Routing and 40G Uplink Application
With the built-in Layer 3 static routing ability, the XGS-5240-24X2QR ensures reliable routing between VLANs and network segments. The XGS-5240-24X2QR, the ideal solution for enterprises, offers greater security, control and bandwidth conservation, and high-speed uplink.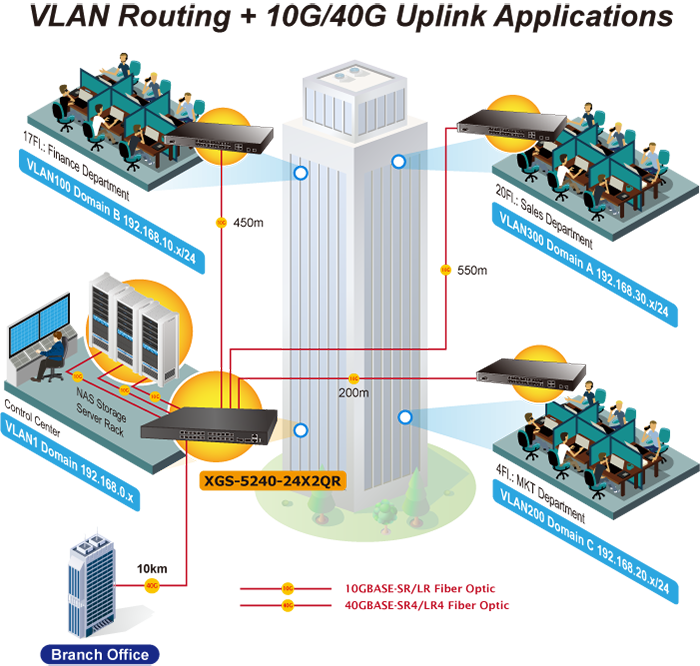 Hardware Specifications
SFP+ Slots
24 10GBASE-SR/LR SFP+ interfaces
Compatible with 1000BASE-SX/LX/BX SFP transceiver
QSFP+ Slots
2 with each supporting native 40 Gigabit Ethernet and four 10GBASE-SR/LR Ethernet modes
MGMT
One 10/100/1000BASE-T RJ45 port
Console
1 RJ45-to-DB9 serial port (9600, 8, N, 1)
USB
1 USB 2.0
Switch Architecture
Store-and-forward
Switch Capacity
640Gbps/non-blocking
Switch Throughput
476Mpps
Address Table
32K MAC address table with auto learning function
Shared Data Buffer
4MB
Flow Control
Back pressure for half duplex
IEEE 802.3x pause frame for full duplex
Jumbo Frame
9KB
LED Indicator
System:
PWR/DC/MGMT/SYS (Green)
Ports:
1/10G SFP+ slot: LNK/ACT(Orange/Green)
40G QSFP+ slot: LNK/ACT (Green)
Dimensions (W x D x H)
440 x 318 x 44.6 mm, 1U height
Weight
4.3kg
Power Consumption
75 watts/210 BTU (maximum)
Power Requirements
AC 100~240V, 50/60Hz
DC 36-72V
Fan
3
Layer 3 Functions
Routing Protocol
IPv4 Static routing
IPv6 Static routing
Routing Table
64 entries
DHCP
DHCP client
DHCP server, default route
DHCP relay
Layer 2 Functions
Port Configuration
Port disable/enable
1 &10Gbps full duplex mode selection
Flow control disable/enable
Bandwidth control on each port
Port loopback detection
Port Status
Display each port's speed duplex mode, link status, flow control status and
auto negotiation status
VLAN
802.1Q tag-based VLAN, up to 4K VLAN entries
802.1ad Q-in-Q (VLAN stacking)
GVRP for VLAN management
Private VLAN Edge (PVE) supported
Protocol-based VLAN
MAC-based VLAN
IP subnet VLAN
Bandwidth Control
TX/RX/both
Link Aggregation
IEEE 802.3ad LACP/static trunk
Supports 12 trunk groups with 8 ports per trunk group
QoS
8 priority queues on all switch ports
Supports strict priority and Weighted Round Robin (WRR) CoS policies
Traffic classification:
– IEEE 802.1p CoS/ToS
– IPv4/IPv6 DSCP
– Port-based WRR
Multicast
IPv4 IGMP v1/v2/v3 snooping
IGMP Querier mode support
Ipv6 MLD v1/v2 snooping
MLD Querier mode support
Multicast VLAN Register (MVR)
Access Control List
Supports Standard and Expanded ACL
IP-based ACL/MAC-based ACL
Time-based ACL
Up to 4K entries (3K ingress; 1K egress)
Security
Port isolation
Supports IP + MAC + port binding
Identification and filtering of L2/L3/L4 based ACL
Defends against DOS or TCP attacks
Suppression of broadcast, multicast and unknown unicast packet
DHCP Snooping, DHCP Option 82
Command line authority control based on user levels
Authentication
IEEE 802.1x port-based network access control
AAA authentication: TACACS+ and IPv4/IPv6 over RADIUS
Management Function
System Configuration
Console, Telnet, Web browser, SNMP v1, v2c
Secure Management Interfaces
SSH, SSL, SNMPv3
Management
Supports both IPv4 and IPv6 Protocols
Supports the user IP security inspection for IPv4/IPv6 SNMP
Supports MIB and TRAP
Supports IPv4/IPv6 TFTP
Supports IPv4/IPv6 NTP
Supports RMON 1, 2, 3, 9 groups
Supports the RADIUS authentication for IPv4/IPv6 Telnet user name and password
Supports IPv4/IPv6 SSH
The right configuration for users to adopt RADIUS server's shell management
Supports CLI, console, Telnet
Supports SNMPv1, v2c and v3
Supports Security IP safety net management function: avoid unlawful landing at non-restrictive area
Supports syslog server for IPv4 and IPv6
Supports TACACS+
SNMP MIBs
RFC 1213 MIB-II
RFC 1215 Internet Engineering Task Force
RFC 1271 RMON
RFC 1354 IP-Forwarding MIB
RFC 1493 Bridge MIB
RFC 1643 Ether-like MIB
RFC 1907 SNMPv2
RFC 2011 IP/ICMP MIB
RFC 2012 TCP MIB
RFC 2013 UDP MIB
RFC 2096 IP forward MIB
RFC 2233 if MIB
RFC 2452 TCP6 MIB
RFC 2454 UDP6 MIB
RFC 2465 IPv6 MIB
RFC 2466 ICMP6 MIB
RFC 2573 SNMPv3 notification
RFC 2574 SNMPv3 VACM
RFC 2674 Bridge MIB Extensions
Standard Conformance
Regulatory Compliance
FCC Part 15 Class A, CE
Standards Compliance
IEEE 802.3z Gigabit 1000BASE-SX/LX
IEEE 802.3ae 10Gb/s Ethernet
IEEE 802.3x flow control and back pressure
IEEE 802.3ad port trunk with LACP
IEEE 802.1D Spanning Tree Protocol
IEEE 802.1w Rapid Spanning Tree Protocol
IEEE 802.1s Multiple Spanning Tree Protocol
IEEE 802.1p Class of Service
IEEE 802.1Q VLAN tagging
IEEE 802.1X port authentication network control
IEEE 802.1ab LLDP
RFC 768 UDP
RFC 793 TFTP
RFC 791 IP
RFC 792 ICMP
RFC 2068 HTTP
RFC 1112 IGMP v1
RFC 2236 IGMP v2
RFC 3376 IGMP v3
RFC 2710 MLD v1
FRC 3810 MLD v2
Environment
Operating
Temperature: 0 ~ 50 degrees C
Relative Humidity: 10 ~ 85% (non-condensing)
Storage
Temperature: -40 ~ 80 degrees C
Relative Humidity: 5 ~ 95% (non-condensing)