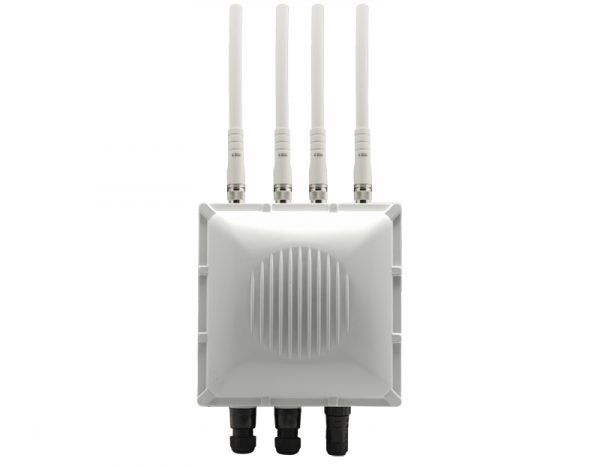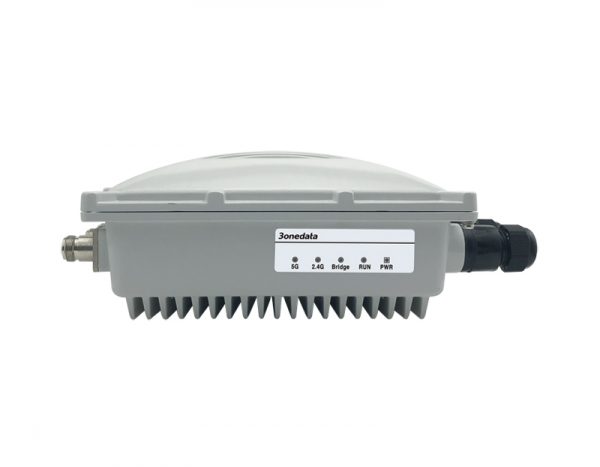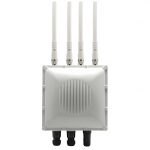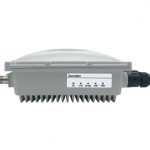 IAP2600 Series
Industrial Outdoor Dual-band Wireless AP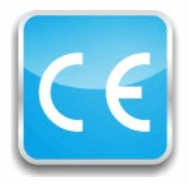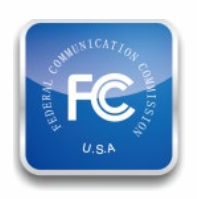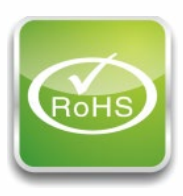 Support 1 gigabit PoE WAN, 1 gigabit PoE LAN, 2 2.4G antenna interfaces, 2 5.8G antenna interfaces and 1 12~48VDC power supply (optional)
Support 2.4GHz and 5.8GHz dual bands
WAN/LAN port supports 48VDC PoE power input
Support -40~75℃ wide operating temperature range
Applicazioni
SPECIFICHE
LISTA MODELLI
DOWNLOAD
Descrizione
IAP2600 series are gigabit industrial outdoor dual-band wireless AP. This series provide 1 gigabit PoE WAN, 2 2.4G antenna interfaces, 2 5.8G antenna interfaces and 1 12~48VDC power supply (optional). They also adopt wall mounting or pole mounting, which can meet the requirements of different application scenes.
The network management system supports four operating modes including Route, AP, Bridge and Client, and IEEE802.11b/g/n/a/ac wireless technology. The highest rate of complete machine could reach 1167Mbps and meet the needs of quick data transmission. The device supports wireless encryption methods like WEP SHARED, WPA2-PSK etc. It also possesses SSID concealing, wireless user isolation, MAC address filtering, ARP binding, DMZ setting and other security strategies. Supports virtual AP, that is, an AP device supports multiple SSID; supports fast roaming, that is, in the WLAN (Wireless Local Area Network) constituted by multiple AP, user can achieve fast roaming without conducting the switching operation.
Hardware adopts fanless, low power consumption, and industrial grade design. IP67 protection and industrial grade components ensure the high reliability of the product which can suit for the harsh outdoor environment. Its -40~75℃ wide operating temperature can meet all demands of industrial scene.
Features and Benefits
Support four operating modes: Route, AP, Bridge and Client
Support high-speed wireless connection, 2.4GHz transmission speed could reach 300Mbps, 5.8GHz could reach 867Mbps
Support dual-band 2×2MIMO and 4 dual-RF omnidirectional antennas
Support simultaneous connection of 100 clients
Support multiple AP fast roaming technology, switching time is less than 50ms
Support wireless probe, which can achieve personal locating function matching with location engine
Support switching function of SSID broadcast
Support multiple SSID setting and provides SSID concealing function
Support port forwarding, ARP binding, DMZ isolation area and other firewall functions
Support WEP/WPA/WPA2 authentication function
Support hardware watchdog, which ensures the reliability of the system
Support wireless user management and flow monitoring
Support -40~75℃ wide operating temperature range
Industrial grade 4 design, support power supply and port isolation protection
Great anti-jamming and defense capability, suit for any harsh environments
Standard

&

Protocol

IEEE 802.3 for 10Base-T

IEEE 802.3u for 100Base-TX

IEEE 802.3ab for 1000Base-T

IEEE802.11b/g/n/a/ac for WLAN

IEEE802.11i for wireless security

IEEE802.11r for fast roaming

IEEE802.3af/at for PoE

Operating Mode

Route, AP, bridge, client

Network Settings

Intranet setting, outer network setting, wireless setting, roaming setting, wireless probe

Firewall

(route mode)

IP filtering, MAC filtering, URL filtering, port forwarding, ARP binding, DMZ setting

Radio Frequency

802.11b/g/n: 2.412GHz~2.4835GHz

802.11ac/n/a: 5.18GHz~5.825GHz

RF power output: 20dBm

Modulation methods: DBPSK, DQPSK, CCK, OFDM, 16-QAM, 64-QAM

Receiving Sensitivity

802.11n_HT40: -82dBm@MCS0, -64dBm@MCS7

802.11n_HT20: -85dBm@MCS0, -67dBm@MCS7

802.11g/a: -91dBm@6Mbps, -72dBm@54Mbps

802.11b: -93dBm@1Mbps, -87dBm@11Mbps

802.11ac:-84dBm@MCS0, -59dBm@MCS9

Transmitting Power

802.11n_HT40: 20dBm@MCS0, 20dBm@MCS7

802.11n_HT20: 20dBm@MCS0, 20dBm@MCS7

802.11g/a: 20dBm@6Mbps, 20dBm@54Mbps

802.11b: 20dBm@1Mbps, 20dBm@11Mbps

802.11ac: 20dBm@MCS0, 20dBm@MCS9

Interface

WAN port: 1 10/100/1000Base-T(X) RJ45port, supports POE 48VDC input power supply

LAN port: 1 10/100/1000Base-T(X) RJ45 port, supports PoE 48VDC power supply input

Antenna: 2 2.4G N-type (Female) ports

2 5.8G N-type (Female) ports

LED Indicator

5.8G signal indicator, 2.4G signal indicator, network bridge indicator, running indicator, power supply indicator

Power

Requirement

POE 48VDC: support IEEE802.3af/at standard

12~48VDC (optional): support non-polarity, anti-reverse connection and 2A overcurrent protection

Power

Consumption

No-load: <4.51W@12VDC

Full-load: <7.90W@12VDC

Environmental

Limit

Operating temperature: -40~75℃

Storage temperature: -40~85℃

Relative humidity: 5%~95%(no condensation)

Physical Characteristic

Housing: IP67 protection*, metal

Installation: Wall mounting or pole mounting

Weight: 3.19KG

Dimension (L × W × H): 220mm×220mm×106.32mm

Industrial

Standard

IEC61000-4-2 (ESD, electronic static discharge), Level 4

Air discharge: ±15kV

Contact discharge: ±8kV

IEC61000-4-4 (EFT, electrical fast transient ), Level 4

Power supply: ±4kV

Signal: ±2kV

IEC61000-4-5 (Surge), Level 4

Power supply: common mode±4kV, differential mode±2kV

Ethernet interface: ±4kV

Shock: IEC 60068-2-27

Free fall: IEC 60068-2-32

Vibration: IEC 60068-2-6

Certification

CE, FCC, RoHS

Warranty

5 years
Available Models
Gigabit PoE WAN
Gigabit PoE LAN
2.4G Antenna
5.8G Antenna
Power Supply

IAP2600-4A25-PDP12_48

1

1

2

2

PoE 48VDC

or 12~48VDC

IAP2600-4A25-PD

1

1

2

2

PoE 48VDC
Optional Accessories
| | | |
| --- | --- | --- |
| Product Type | Product Number | Comment |
| 2.4GHz(5dBi) omnidirectional fiberglass antenna, N-J type×1 | 3005040017 | Optional |
| 5.8GHz(5dBi) omnidirectional fiberglass antenna, N-J type×1 | 3005040019 | Optional |
| 2.4GHz(8dBi) omnidirectional fiberglass antenna, N-J type×1 | 3005040012 | Optional |
| 5.8GHz(8dBi) omnidirectional fiberglass antenna, N-J type×1 | 3005040013 | Optional |
| 2.4GHz(14dBi) directional panel antenna, N-K type×1 | 3005040010 | Optional |
| 5.8GHz(14dBi) directional panel antenna, N-K type×1 | 3005040011 | Optional |
| 5M outdoor waterproof WLAN RF cable, NJ-NK | 3005040008 | Optional |
| 5M outdoor waterproof WLAN RF cable, NJ-NJ | 3005040014 | Optional |