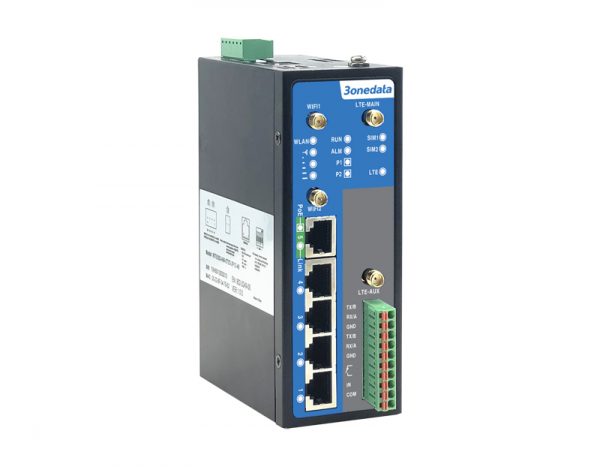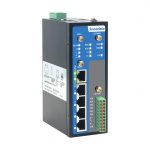 IRT5300-AW-5T2D
Industrial-grade 4G Router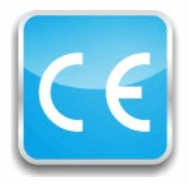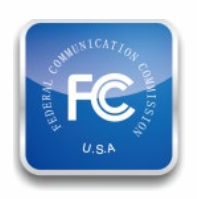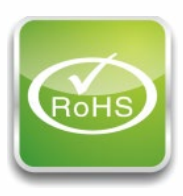 Support 5 100M copper ports (one of them supports PoE power receiving), 2 RS-232/485 serial ports, 2 WIFI antenna interfaces, 2 LTE antenna interfaces, 2 SIM card slots, etc.
Support all 4G networks cellular wireless network types include: LTE/WCDMA(HSPA+)/EDGE/ TD-SCDMA /GSM/CDMA/GPRS
Support dual power supply, input voltage: 12~48VDC
PoE port supports 48VDC power supply input
Support -40~75℃ wide operating temperature range
Applicazioni
SPECIFICHE
LISTA MODELLI
DOWNLOAD
Descrizione
IRT5300-AW-5T2D is industrial-grade 4G router. Its PoE power supply conforms to IEEE802.3af/at protocol standard. This product supports 5 100M copper ports (one of them supports PoE power receiving), 2 serial ports, 4 antenna interfaces and 2 SIM card slots, etc. It adopts DIN-Rail mounting, which can meet the requirements of different application scenes.
Network management supports multiple software functions, like Cellular WAN, Ethernet WAN, ICMP Link Test, DHCP Setting, Dynamic Domain Name, Routing Table Setting, WLAN Setting, Port Forwarding, Port Redirection, DMZ Setting, Serial Port Application and Setting, UPnP Setting, VRRP, RIP, OSPF and Static DHCP, etc. It also supports firewall functions, such as IP Filtering, MAC Filtering, URL Filtering and Keyword Filtering, etc. and VPN tunneling functions like IPSec, PPTP, L2TP, etc. Network management could bring you great user experience though its friendly designed system interface and easy and convenient operation.
The power supply input consists of two independent power supply circuits, which can ensure device's normal operation when one fails. The design of DIP switch could implement device reboot and factory setting recovery. When power supply or port has link failure, ALARM indicator would be bright and send alerts for quick troubleshooting on the scene. Hardware adopts fanless, low power consumption, wide temperature and voltage design. It can be widely used in railway transportation, intelligent transportation, smart grid, environmental monitoring, fire monitoring, security monitoring, hydrological monitoring, public safety, industrial control, earthquake monitoring, meteorological monitoring, instrument monitoring and other industries.
Features and Benefits
Support dual SIM card redundancy backup and Cellular network. It's embedded with multiple 2G/3G/4G wireless communication modules
Support backup switch between PPPOE, DHCP, static IP and 4G networks to fit different scenes
Support network firewall, which can implement filtering and forwarding of IP, MAC, URL, keyword, etc.
DHCP, DHCP server could be used to distribute IP address with different policies
Support DDNS function, user can access server through domain names
Support VPN encryption protocols like GRE, PPTP, L2TP and IPSEC, which can ensure the privacy and integrity of data and prevent replay attack
Support multiple serial port operating modes like RealCom, TCP Server, TCP Client, UDP Server, UDP Client, etc.
Support NAT, which can implement conversion between public address and private address. Functions like port mapping and port redirection are also supported.
Log management records boot information, operation information and connection information
VRRP, RIP, OSPF could implement dynamic router configuration
Support timing reboot and ICMP link test reboot
Support hardware watchdog to ensure the reliability of system
 

Standard

&

Protocol

 

IEEE802.11b/g/n for WLAN

IEEE802.11i for wireless security

IEEE802.11r for fast roaming

IEEE802.3af/at for PoE 

IEEE 802.3 for 10BaseT

IEEE 802.3u for 100BaseT(X) 

 

Security

 

SSID Broadcast Switch, MAC Filtering, IP Filtering, URL Filtering, Keyword Filtering, WPA2-PASK and WEP SHARED Encryption, NAT, Port Mapping, Virtual Server, GRE, PPTP Client, PPTP Server, L2TP Client, L2TP Server and IPSEC VPN Encryption, DMZ

 

Reliability

 

Floating Route RIP, VRRP, Multi WAN Port and Wire/Wireless Interface Backup, Link Online Test, Embedded Watchdog

 

Troubleshooting

 

Ping, Traceroute, Port Loopback

 

 

WIFI Transmission Rate

 

 

802.11n: 6.5~300Mbps

802.11b: 11/5.5/2/1Mbps

802.11g: 54/48/36/24/18/12/9/6Mbps

 

WIFI RF

 

Channel: 2.412GHz~2.4835GHz

RF power output: 23dBm

Modulation scheme: DBPSK, DQPSK, CCK, OFDM, 16-QAM, 64-QAM

 

WIFI Receiving Sensitivity

 

802.11n_HT40: -82dBm@MCS0, -64dBm@MCS7

802.11n_HT20: -85dBm@MCS0, -67dBm@MCS7

802.11g: -91dBm@6Mbps, -72dBm@54Mbps

802.11b: -93dBm@1Mbps, -87dBm@11Mbps

 

WIFI Transmission Power

 

802.11n_HT40: 23dBm@MCS0, 20dBm@MCS7

802.11n_HT20: 23dBm@MCS0, 20dBm@MCS7

802.11g: 23dBm@6Mbps, 20dBm@54Mbps

802.11b: 23dBm@1Mbps, 23dBm@11Mbps

 

LTE Operating Frequency Band

 

TDD-LTE: Band38/39/40/41

FDD-LTE: Band 1/3/5/7/8/20

WCDMA: Band1/5/8

TD-SCDMA: B34/39

EVDO/CDMA1X: BC0

GSM: Band 3/8

 

LTE Bandwidth

 

TDD-LTE: Rel 9 Cat4 TDD-LTE 112Mbps/30Mbps

FDD-LTE: Rel 9 Cat4 FDD-LTE 150Mbps/50Mbps

DC-HSPA+: 42Mbps/5.76Mbps

HSPA+: 21Mbps/5.76Mbps

UMTS: 384kbps/384kbps

EVDO RevA: 3.1Mbps/1.8Mbps

EVDO Rev0: 2.4Mbps/153.6kbps

TD-HSPA: 4.2Mbps/2.2Mbps

TD- SCDMA: 2.8Mbps/2.2Mbps

CDMA 1x: 153.6kbps/153.6kbps

EDGE: 236.8kbps/236.8kbps

GPRS: 85.6kbps/85.6kbps

 

LTE Sensitivity

 

GSM: <-108dBm

WCDMA: <-109dBm

TD-SCDMA: <-108dBm

TDD-LTE: 

Band38/39/40: <-100dBm@5MHz BW

Band41: <-98dBm@5MHz BW

FDD-LTE: 

Band1: <-100dBm@5MHzBW

Band3/8: <-97dBm@5MHzBW

Band5: <-98dBm@5MHzBW

CDMA: <-108dBm

EVDO: <-108dBm

 

Maximum Transmission Power Of LTE

 

LTE-FDD/TDD: 23 ±2dBm

WCDMA: 24 +1/-3dBm

TD-SCDMA: 24 +1/-3dBm

EVDO/CDMA 1X: 24 ±1dBm

GSM850/900: 33±2dBm

GSM1800/1900: 30±2dBm

Interface

Copper port: 5 10/100Base-T(X) RJ45 ports, which could be configured to 5 LAN or 4 LAN+1 WAN

Serial port: 2 RS-232 or 2 RS-485 

I/O port: reserved

SIM slot: 2 SIM slots, redundancy backup, support 1.8V/3V SIM card

Antenna interface: 

2 LTE antenna interfaces, SMA female. Master antenna is used for sending/receiving information; slave antenna is used for receiving information

2 WIFI antenna interfaces, SMA female

Serial Port Parameter

 

ESD protection: ±15KV

Data bit: support 7, 8bits. 8 bits by default.

Check bit: support No Check, Odd Check, Even check

Stop bit: 1, 2 bit

Baud rate: 300bps-15200bps

RS-232: TXD, RXD, GND

RS-485: Data+(A), Data-(B), GND

 

LED Indicator

 

WLAN indicator, LTE signal strength indicator, running indicator, alarm indicator, power supply indicator, SIM indicator, LTE indicator, PoE indicator, copper port connection indicator, serial port connection indicator, RLY indicator, DI indicator

 

Power

Requirement

 

Dual power supply redundancy, voltage range: 12~48VDC, support non-polarity, reverse polarity protection, built-in overcurrent 2.0 protection

support standard 48V PoE power supply, which conforms to 802.3af/802.3at standard(100m max)

 

Power

Consumption

 

No-load: 3.38W@24VDC

Full-load: 7.15W@24VDC

 

Environmental 

Limit

 

Operating temperature: -40~75℃

Storage temperature: -40~85℃

Relative humidity: 5%~95%(no condensation)

 

Physical Characteristic

 

Housing: IP30 protection, metal

Dimension (W x H x D): 53mm x 138mm x 110 mm(exclude antenna)

Installation: DIN-Rail mounting

Weight:570g

 

Industrial

Standard

 

IEC 61000-4-2 (ESD, electrostatic discharge), Level 3

Air discharge: ±8kV

Contact discharge: ±6kV

 

IEC 61000-4-4 (EFT, electrical fast transient), Level 3

Power supply: ±2kV

Ethernet port: ±1kV

Relay: ±2kV

 

IEC 61000-4-5 (Surge), Level 3

Power supply: common mode±2kV, differential mode±1kV

Ethernet port: ±2kV

Relay: common mode±2kV, differential mode±1kV

 

Shock: IEC 60068-2-27

Free fall: IEC 60068-2-32

Vibration: IEC 60068-2-6

 

Certification

 

CE, FCC, RoHS

 

Warranty

 

5 years

 
| | | | | | |
| --- | --- | --- | --- | --- | --- |
| Available Models | 100m Copper Port | Serial Port | Antenna | SIM Slot | Power Supply |
| IRT5300-AW-5T2D-2P12_48 | 5 | 2 | 4 | 2 | 12~48VDC or 48VDC PoE |