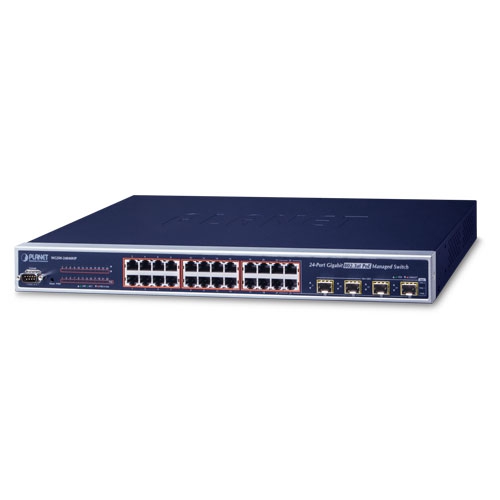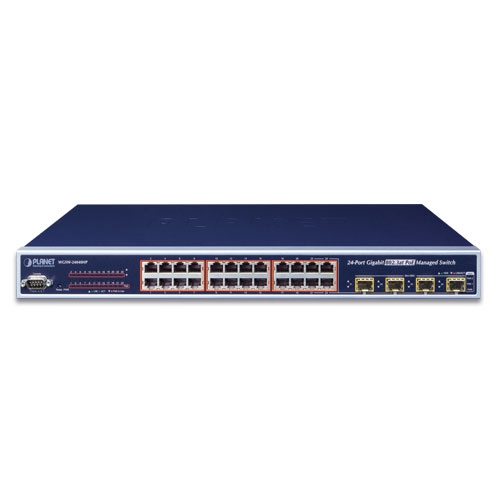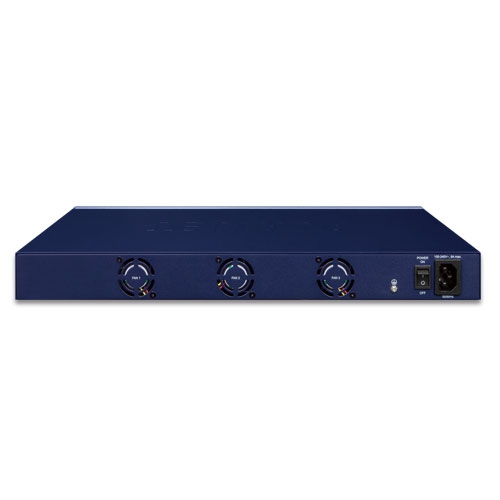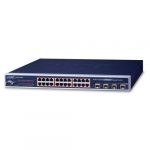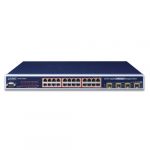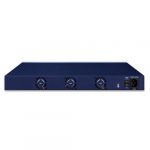 WGSW-24040HP4
L2+/L4 24-Port 10/100/1000T 802.3at PoE with 4 shared 100/1000X SFP Managed Security Switch, with Layer3 IPv4/IPv6 Static Routing (440W PoE Budget, ONVIF, Cybersecurity features)
Applicazioni
SPECIFICHE
DOWNLOAD
Descrizione
Perfect Integration Solution for IP PoE Camera and NVR System
The WGSW-24040HP series brings an ideal secure surveillance system at a lower total cost. It provides 24 10/100/1000Mbps 802.3at PoE ports with 4 Gigabit TP/SFP Combo interfaces, offering sufficient PoE power for a maximum of 24 IEEE 802.3af PoE IP cameras at the same time.
With 4 Gigabit TP/SFP Combo interfaces, the WGSW-24040HP series supports connection to three 8-channel NVR systems to receive stream from 20 IP cameras and also to backbone switch from an uplink port, and then access to the control center. With its high performance switch architecture, the recorded video files from the 20 IEEE 802.3af PoE IP cameras can be saved in the NVR systems, which can be controlled and monitored both in the local LAN and the remote site via Internet.
IP Office Department/Workgroup PoE Switch
As the business expands, the additional telephones required could be installed at less cost via the implementation of PoE IP telephony system than that of the traditional circuit wiring telephony system. The WGSW-24040HP series helps enterprises to efficiently create an integrated data, voice, and powered VoIP network. PLANET IEEE 802.3af compliant IP phones can be installed without any power cable because it can be powered via the standard Ethernet cable from the connected WGSW-24040HP series. With the WGSW-24040HP series, IP telephony deployment becomes more reliable and cost effective, thus helping enterprises save tremendous cost when upgrading from the traditional telephony system to an IP telephony communications infrastructure.
IP Office Backbone PoE Switch
Providing up to 24 PoE, in-line power interfaces, or up to 20 PoE, in-line power interfaces and 4 Gigabit TP/SFP combo interfaces, the WGSW-24040HP series can easily build an IP phone system, IP camera system, or wireless AP group for the enterprises in which power can be centrally controlled. For instance, IP cameras or wireless APs can be easily installed in the company for surveillance demands or building a wireless roaming environment in the office. Without the power socket limitation, the WGSW-24040HP series makes the deployment of IP cameras or wireless LAN AP easier and more efficient. The 4 Gigabit TP/SFP combo interfaces in the WGSW-24040HP series also offer flexible Gigabit TP or fiber connection for uplinking to public server groups.
Hardware Specifications
Hardware Version
2
Copper Ports
24 10/ 100/1000BASE-T RJ45 auto-MDI/MDI-X ports
10/100/1000Mbps / SFP Combo Interfaces
4 10/100/1000Mbps TP and SFP shared combo interfaces, SFP (Mini-GBIC) supports 100/1000Mbps Dual mode DDM, shared with Port-21 to Port-24
Console
1 x RJ45 serial port (115200, 8, N, 1)
Switch Architecture
Store-and-Forward
Switch Fabric
48Gbps / non-blocking
Throughput
35.7Mpps@64Bytes
Address Table
8K entries, automatic source address learning and ageing
Shared Data Buffer
4 megabits
Flow Control
IEEE 802.3x pause frame for full duplex
Back pressure for half duplex
Jumbo Frame
9K bytes
Reset Button
< 5 sec: System reboot
> 5 sec: Factory Default
LED
System:
Power (Green)
WGSW-24040HP Alert:
Fan 1 (Green), Fan 2 (Green), PWR (Green)
WGSW-24040HP4 Alert:
Fan 1 (Green), Fan 2 (Green), Fan 3 (Green), PWR (Green)
PoE Ethernet Interfaces (Port 1 to Port 24):
LNK/ACT (10/100/1000Mbps, Green), PoE-in-Use (Orange)
100/1000Mbps SFP Combo Interfaces (Port 21 to Port 24):
1000 (Green), 100 (None), LNK/ACT(Orange)
Power Requirements
WGSW-24040HP: 100~240V AC, 50/60Hz, 4A
WGSW-24040HP4: 100~240V AC, 50/60Hz, 6A
Power Consumption (Full Loading)
WGSW-24040HP: 262 watts
WGSW-24040HP4: 482 watts
ESD Protection
6KV DC
Dimensions (W x D x H)
440 x 200 x 44.5 mm, 1U high
Weight
WGSW-24040HP: 4.25 kg
WGSW-24040HP4: 4.75 kg
Layer 2 Management Function
PoE Standard
IEEE 802.3at/802.3af Power over Ethernet
PoE Power Supply Type
End-span
PoE Power Output
Per port 52V DC, 590mA. max. 30.8 watts
Power Pin Assignment
1/2(+), 3/6(-)
PoE Power Budget
WGSW-24040HP: 220 watts max.
WGSW-24040HP4: 440 watts max.
PoE Ability
WGSW-24040HP:
24 units: 24 units
14 units: 14 units
7 units: 7 units
WGSW-24040HP4:
24 units: 24 units
14 units: 24 units
7 units: 14 units
Layer 2 Management Function
Basic Management Interfaces
Console; Telnet; Web Browser; SNMP v1, v2c
Secure Management Interfaces
SSH, SSL, SNMP v3
Port Configuration
Port disable / enable
Auto-negotiation 10/100/1000Mbps full and half duplex mode selection
Flow Control disable / enable
Port Status
Display each port's speed duplex mode, link status, flow control status, auto negotiation status, trunk status
Port Mirroring
TX / RX / Both
Many-to-1 monitor
VLAN
802.1Q tag-based VLAN, up to 255 VLAN groups
Q-in-Q tunneling
Private VLAN Edge (PVE)
MAC-based VLAN
Protocol-based VLAN
Voice VLAN
MVR (Multicast VLAN Registration)
Up to 255 VLAN groups, out of 4094 VLAN IDs
Link Aggregation
IEEE 802.3ad LACP (static trunk)
Supports 12 trunks groups with 4 ports per trunk group
QoS
Traffic classification based, strict priority and WRR
8-Level priority for switching
– Port Number
– 802.1p priority
– 802.1Q VLAN tag
– DSCP/TOS field in IP packet
IGMP Snooping
IGMP Snooping (v1/v2/v3), up to 255 multicast groups
IGMP Querier mode support
MLD Snooping
MLD Snooping ((v1/v2), up to 255 multicast groups
MLD Querier mode support
Access Control List
IP-based ACL / MAC-based ACL
Up to 256 entries
Bandwidth Control
Per port bandwidth control
Ingress: 500Kb~80Mbps
Egress: 64Kb~80Mbps
SNMP MIBs
RFC 1213 MIB-II
IF-MIB
RFC 1493 Bridge MIB
RFC 1643 Ethernet MIB
RFC 2863 Interface MIB
RFC 2665 Ether-Like MIB
RFC 2737 Entity MIB
RFC 2819 RMON MIB (Groups 1, 2, 3 and 9)
RFC 2618 RADIUS Client MIB
RFC 3411 SNMP-Frameworks-MIB
IEEE 802.1X PAE
LLDP
MAU-MIB
Layer 3 Function
IP Interface
Max. 8 VLAN interfaces
Routing Table
Max. 32 routing entries
Routing Protocols
IPv4 software static routing
IPv6 software static routing
Standards Conformance
Regulatory Compliance
FCC Part 15 Class A, CE
Standards Compliance
IEEE 802.3 10BASE-T
IEEE 802.3u 100BASE-TX/100BASE-FX
IEEE 802.3z 1000BASE-SX/LX
IEEE 802.3ab 1000BASE-T
IEEE 802.3x flow control and back pressure
IEEE 802.3ad port trunk with LACP
IEEE 802.1D Spanning Tree protocol
IEEE 802.1w Rapid Spanning Tree protocol
IEEE 802.1s Multiple Spanning Tree protocol
IEEE 802.1p Class of service
IEEE 802.1Q VLAN tagging
IEEE 802.1x Port Authentication Network Control
IEEE 802.1ab LLDP
IEEE 802.3af Power over Ethernet
IEEE 802.3at Power over Ethernet PLUS
RFC 768 UDP
RFC 793 TFTP
RFC 791 IP
RFC 792 ICMP
RFC 2068 HTTP
RFC 1112 IGMP version 1
RFC 2236 IGMP version 2
RFC 3376 IGMP version 3
RFC 2710 MLD version 1
FRC 3810 MLD version 2
Environments
Operating
Temperature: 0 ~ 50 degrees C
Relative Humidity: 5 ~ 95% (non-condensing)
Storage
Temperature: -10 ~ 70 degrees C
Relative Humidity: 5 ~ 95% (non-condensing)