Applicazioni
SPECIFICHE
DOWNLOAD
Descrizione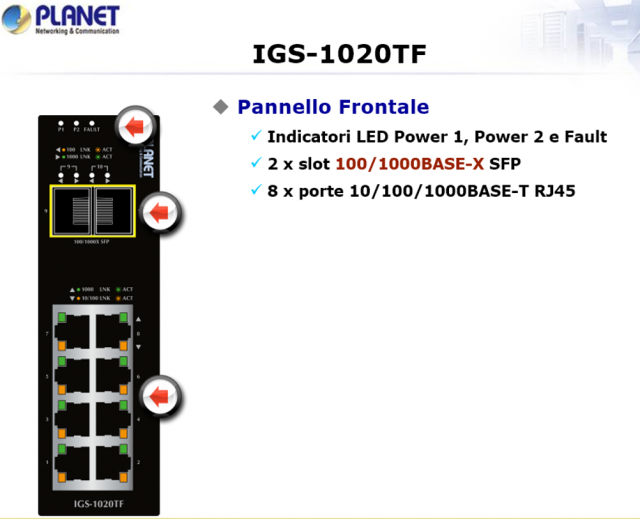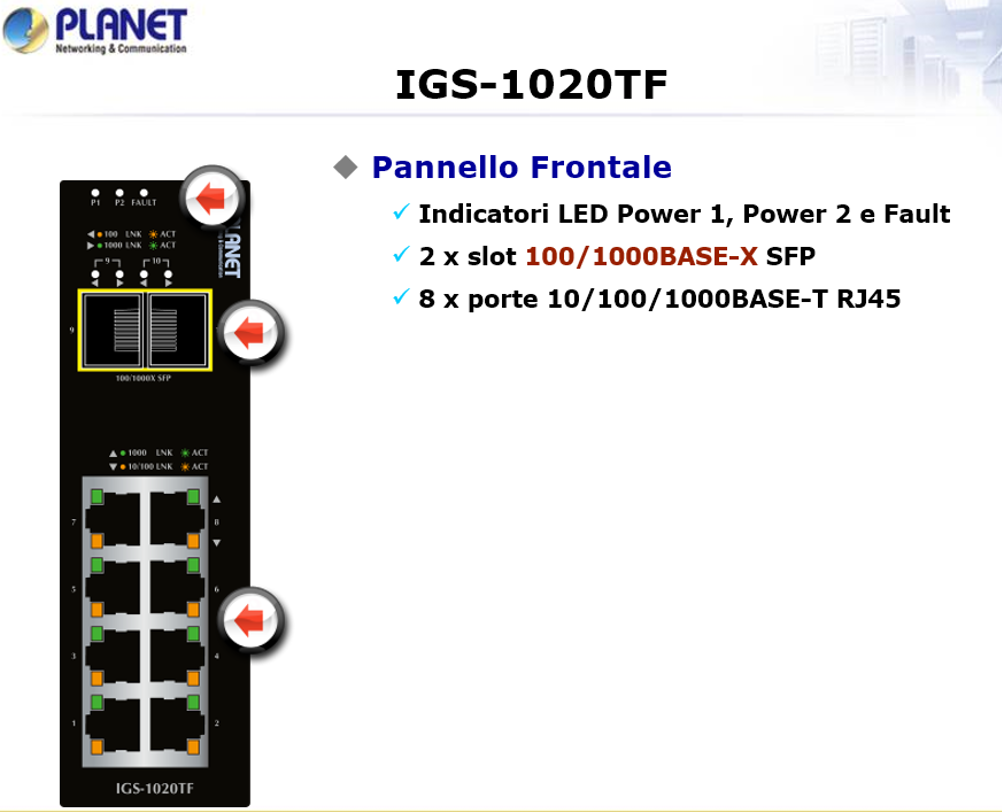 Applicazioni Ethernet con Uplink in fibra ottica a lunga distanza per ambienti ostili
Lo switch Gigabit Ethernet industriale IGS-1020TF offre piena velocità Gigabit con funzionalità molto elevate di affidabilità e sicurezza per garantire il funzionamento continuo in ambienti difficili come armadi di controllo del trasporto, fabbriche, esterni e luoghi in cui si possono verificare temperature estremamente basse o estremamente alte. Inoltre, compatibile con i moduli 100Mbps e 1000Mbps SFP, fornisce una connessione potente, stabile e su lunga distanza e un deployment di rete industriale flessibile.

Soluzioni FTTX per applicazioni MAN
Per allestire una soluzione di rete FTTH (Fiber to the Home) o FTTC (Fiber to the Curb) per gli ISP e FTTB (Fiber to the Building) per le imprese, le varie distanze dei ricetrasmettitori SFP e Bidi (WDM) sono opzionali. Con due slot SFP a doppia velocità integrati, la distanza di distribuzione dell'IGS-1020TF può essere estesa fino a 120 chilometri (fibra monomodale), fornendo un servizio edge ad alte prestazioni per le soluzioni FTTx.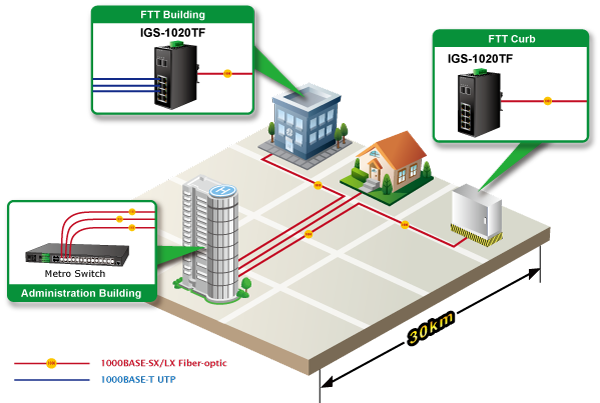 Hardware Specifications
Copper Ports
8 x 10/100/1000BASE-T RJ45 TP
Auto-MDI/MDI-X, auto-negotiation
SFP/mini-GBIC Slots
2 1000BASE-SX/LX/BX SFP interfaces (Port-9 and Port-10)
Compatible with 100BASE-FX SFP
Switch Processing Scheme
Store-and-Forward
Switch Fabric
20Gbps (non-blocking)
Switch Throughput (packet per second)
14.88Mpps@64bytes
MAC Address Table
4K entries
Flow Control
Back pressure for half duplex
IEEE 802.3x pause frame for full duplex
Jumbo Frame
9216 bytes
Connector
Removable 6-pin terminal block
Pin 1/2 for Power 1; Pin 3/4 for fault alarm; Pin 5/6 for Power 2
Alarm
Provides one relay output for power failure
Alarm Relay current carry ability: 1A @ DC 24V
LED Indicator
3 x LED for System and Power:
Green: DC Power 1
Green: DC Power 2
Red: Power Fault
2 x LED for Per Copper Port (Port-1~Port-8):
Green: 1000 LNK/ACT
Orange:100 LNK/ACT
2 x LED for Per Mini-GBIC Interface (Port-9 and Port-10):
Green: 1000 LNK/ACT
Orange:100 LNK/ACT
ESD Protection
6KV DC
Enclosure
IP30 type metal case
Installation
DIN rail kit and wall-mount ear
Dimensions (W x D x H)
56 x 87 x 135 mm
Weight
540g
Power Requirements
DC 12~48V or AC 24V
Redundant power with polarity reverses protection function
Power Consumption/Dissipation
8.7 watts/29.69BTU
Cable
Twisted-pair
■ 10BASE-T: 2-pair UTP Cat. 3, 4, 5, up to 100 meters
■ 100BASE-TX: 2-pair UTP Cat. 5, 5e up to 100 meters
■ 1000BASE-T: 4-pair UTP Cat. 5e, 6 up to 100 metersFiber-Optic Cable 
■ 1000BASE-SX:
50/125μm or 62.5/125μm multi-mode fiber optic cable, up to 550m
■ 1000BASE-LX:
9/125μm single-mode fiber optic cable, up to 10/20/30/40/50/70/120
kilometers (vary on SFP module)
■ 100BASE-FX:
50/125μm or 62.5/125μm multi-mode fiber optic cable, up to
2 kilometers
9/125μm single-mode fiber optic cable, up to 20/40/60 kilometers
(vary on SFP module)
Standards Conformance
Standards Compliance
IEEE 802.3 Ethernet/10BASE-T
IEEE 802.3u Fast Ethernet/100BASE-TX
IEEE 802.3ab Gigabit Ethernet/1000BASE-T
IEEE 802.3z Gigabit Ethernet/1000BASE-SX/LX
IEEE 802.3x Full-Duplex Flow Control
IEEE 802.3az Energy Efficient Ethernet (EEE)
IEEE 802.1p Cos
Regulatory Compliance
FCC Part 15 Class A, CE
Stability Testing
IEC 60068-2-32 (free fall)
IEC 60068-2-27 (anti-shock)
IEC 60068-2-6 (anti-vibration)
Environment
Temperature
Operating: -40~75 degrees C
Storage: -40~75 degrees C
Humidity
Operating: 5~95% (non-condensing)
Storage: 5~95% (non-condensing)