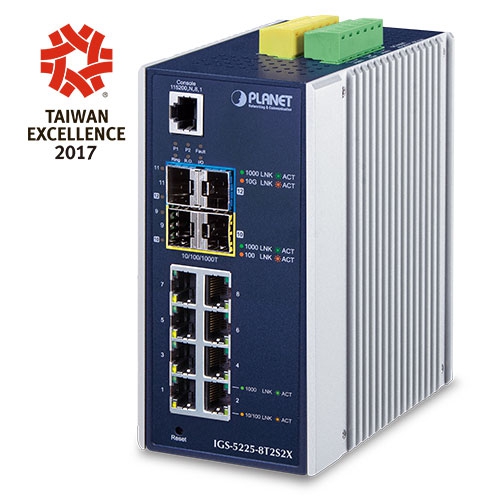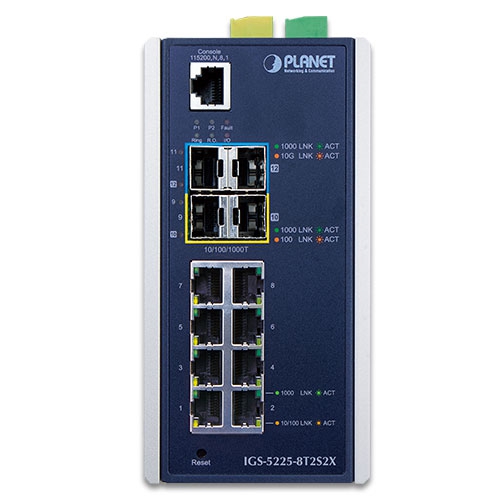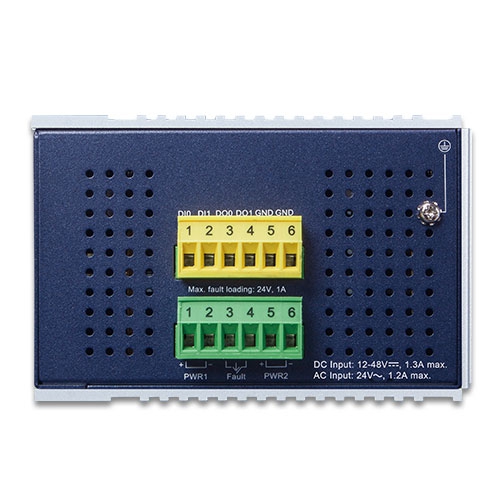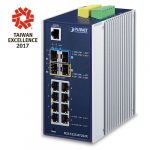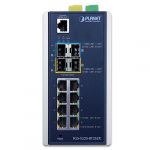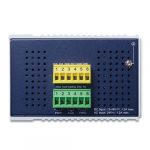 IGS-5225-8T2S2X
IP30 Industrial L3, Din-Rail, 8-Port 1000T + 2-Port 100/1000X SFP + 2-Port 10G SFP+ Full Managed Switch (-40 to 75 C, dual redundant power input on 12~48VDC terminal block, DIDO, ERPS Ring, 1588, Modbus TCP, Cybersecurity features, Hardware Layer3 OSPFv2 and IPv4/IPv6 Static Routing). Richiede Alimentatore DIN RAIL Serie PWR ….
Applicazioni
SPECIFICHE
DOWNLOAD
Descrizione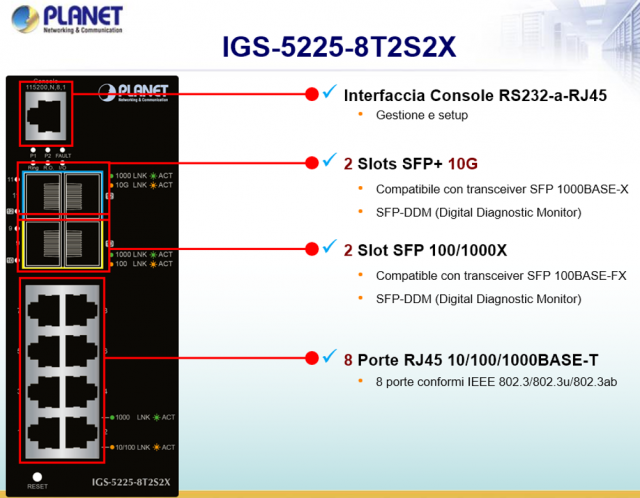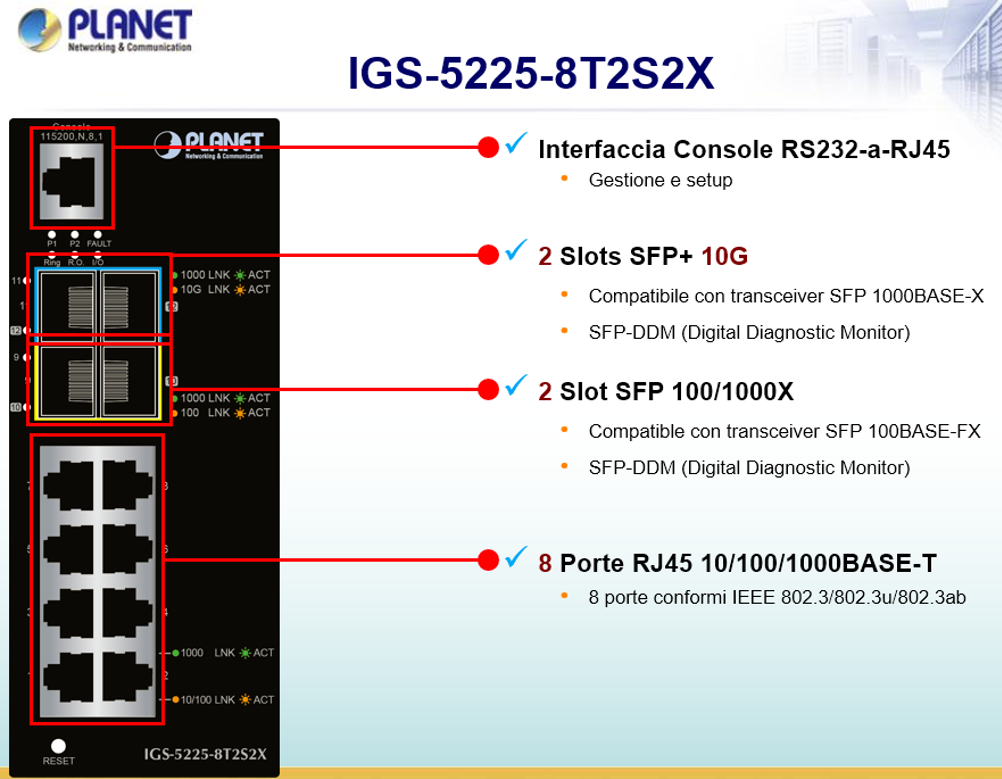 Eccellente soluzione di elevata larghezza di banda 10 Gbps per Rete Core
IGS-5225-8T2S2X dispone di switch fabric non bloccante a 60Gbps, fornendo facilmente una rete Ethernet locale ad alta larghezza di banda 10Gbps per il backbone del proprio reparto. Con le due porte SFP+ integrate, IGS-5225-8T2S2X offre l'uplink alla rete backbone tramite i moduli SFP+ 10G Ethernet LR/SR. Inoltre, incrementa l'efficienza della rete e protegge i client di rete mediante funzionalità di sicurezza e QoS.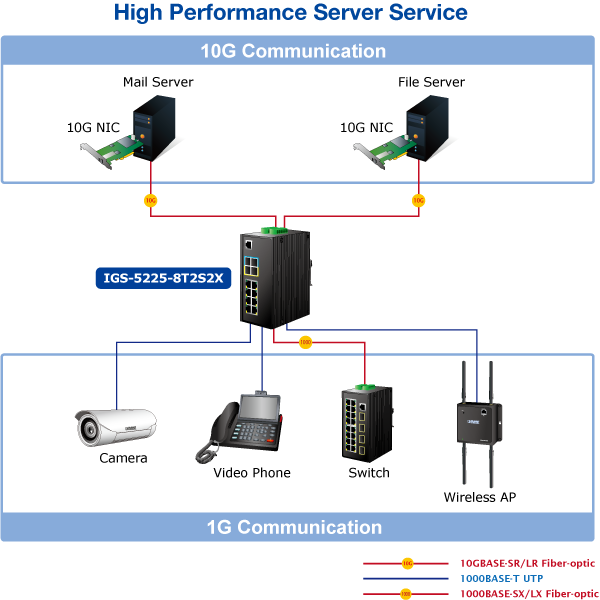 FTTx/MAN Edge Switch
Mediante l'evoluzione della tecnologia Ethernet in fibra ottica con funzionalità di alta flessibilità, estensione e facilità di installazione, lo switch IGS-5225-8T2S2X offre una velocità di scambio dati fino a 10Gbps tramite interfaccia in fibra ottica e una distanza di trasmissione estendibile a 120km. IGS-5225-8T2S2X è la soluzione ideale per fornitori di servizi come ISP e telecom per creare una rete MAN (Metropolitan Area Network) basata su tecnologia in fibra.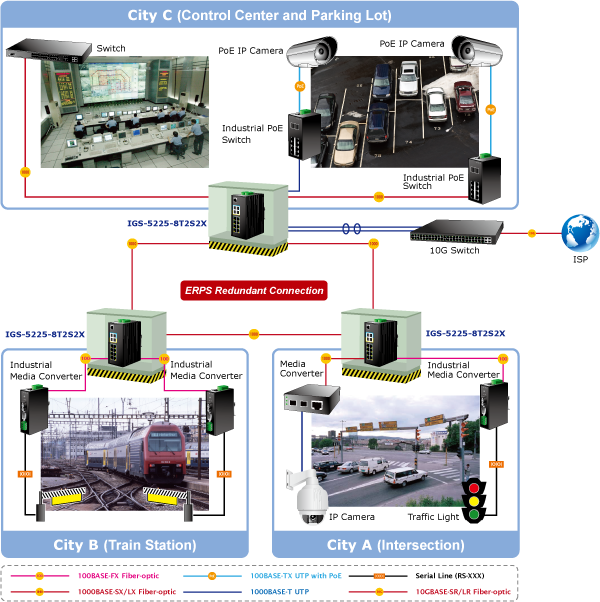 Hardware Specifications
Hardware Version
3
Copper Ports
8 10/100/1000BASE-T RJ45 auto-MDI/MDI-X ports
SFP/mini-GBIC Slots
2 1000BASE-SX/LX/BX SFP interfaces (Port-9 and Port-10)
Compatible with 100BASE-FX SFP
SFP+ Slots
2 10GbBASE-SR/LR SFP+ interfaces (Port-11 and Port-12)
Compatible with 1000BASE-SX/LX/BX SFP transceiver
Console
1 x RJ45-to-RS232 serial port (115200, 8, N, 1)
Switch Architecture
Store-and-Forward
Switch Fabric
60Gbps/non-blocking
Throughput (packet per second)
44.642Mpps@ 64Bytes packet
Address Table
32K entries, automatic source address learning and aging
Shared Data Buffer
16Mbits
Flow Control
IEEE 802.3x pause frame for full-duplex
Back pressure for half-duplex
Jumbo Frame
10Kbytes
Reset Button
< 5 sec: System reboot
> 5 sec: Factory default
ESD Protection
6KV DC
Enclosure
IP30 aluminum case
Installation
DIN rail kit and wall-mount kit
Connector
Removable 6-pin terminal block for power input
Pin 1/2 for Power 1, Pin 3/4 for fault alarm, Pin 5/6 for Power 2
Removable 6-pin terminal block for DI/DO interface
Pin 1/2 for DI 1 & 2, Pin 3/4 for DO 1 & 2, Pin 5/6 for GND
Alarm
One relay output for power failure. Alarm relay current carry ability: 1A @ 24V DC
DI/DO
2 Digital Input (DI):
Level 0: -24V~2.1V (±0.1V)
Level 1: 2.1V~24V (±0.1V)
Input load to 24V DC, 10mA max.
2 Digital Output (DO):
Open collector to 24V DC, 100mA max.
LED Indicator
System:
Power 1 (Green)
Power 2 (Green)
Fault Alarm (Red)
Ring (Green)
R.O. (Green)
DIDO (Red)
Per 10/100/1000T RJ45 Ports:
10/100 LNK/ACT (Orange)
1000 LNK/ACT (Green)
Per SFP Interface:
100 LNK/ACT (Orange)
1000 LNK/ACT (Green)
Per SFP+ Interface:
10G LNK/ACT (Orange)
1000 LNK/ACT (Green)
Dimensions (W x D x H)
72 x 107 x 152 mm
Weight
1070g
Power Requirements
Dual 12~48V DC
24V AC
Power Consumption
Max. 10.1 watts/34.51BTU (Power on without any connection)
Max. 16.36 watts/55.79BTU (Full loading )
Layer 2 Function
Basic Management Interfaces
Console; Telnet; Web browser; SNMP v1, v2c
Secure Management Interfaces
SSH, SSL, SNMP v3
Port Configuration
Port disable/enable
Auto-negotiation 10/100/1000Mbps full and half duplex mode selection
Flow control disable/enable
Port Status
Display each port's speed duplex mode, link status, flow control status,
auto negotiation status, trunk status
Port Mirroring
TX/RX/Both
Many-to-1 monitor
VLAN
802.1Q tagged based VLAN, up to 255 VLAN groups
Q-in-Q tunneling
Private VLAN Edge (PVE)
MAC-based VLAN
Protocol-based VLAN
Voice VLAN
MVR (Multicast VLAN Registration)
Up to 255 VLAN groups, out of 4095 VLAN IDs
Link Aggregation
IEEE 802.3ad LACP/static trunk
Supports 6 trunk groups with 8 ports per trunk group
QoS
Traffic classification based, strict priority and WRR
8-level priority for switching
– Port number
– 802.1p priority
– 802.1Q VLAN tag
– DSCP/TOS field in IP packet
IGMP Snooping
IGMP (v1/v2/v3) snooping, up to 255 multicast groups
IGMP querier mode support
MLD Snooping
MLD (v1/v2) snooping, up to 255 multicast groups
MLD querier mode support
Access Control List
IP-based ACL/MAC-based ACL
Up to 512 entries
Bandwidth Control
Per port bandwidth control
Ingress: 500Kb~1000Mbps
Egress: 500Kb~1000Mbps
SNMP MIBs
RFC-1213 MIB-II
IF-MIB
RFC 1493 Bridge MIB
RFC 1643 Ethernet MIB
RFC 2863 Interface MIB
RFC 2665 Ether-Like MIB
RFC 2819 RMON MIB (Group 1, 2, 3 and 9)
RFC 2737 Entity MIB
RFC 2618 RADIUS Client MIB
RFC 2933 IGMP-STD-MIB
RFC 3411 SNMP-Frameworks-MIB
IEEE 802.1X PAE
LLDP
MAU-MIB
Layer 3 Function
IP Interfaces
Max. 128 VLAN interfaces
Routing Table
Max. 128 routing entries
Routing Protocols
IPv4 hardware static routing
IPv6 hardware static routing
Standards Conformance
Regulatory Compliance
FCC Part 15 Class A, CE
Stability Testing
IEC60068-2-32 (free fall)
IEC60068-2-27 (shock)
IEC60068-2-6 (vibration)
Standards Compliance
IEEE 802.3 10BASE-T
IEEE 802.3u 100BASE-TX/100BASE-FX
IEEE 802.3z Gigabit SX/LX
IEEE 802.3ab Gigabit 1000T
IEEE 802.3ae 10Gb/s Ethernet
IEEE 802.3x flow control and back pressure
IEEE 802.3ad port trunk with LACP
IEEE 802.1D Spanning Tree Protocol
IEEE 802.1w Rapid Spanning Tree Protocol
IEEE 802.1s Multiple Spanning Tree Protocol
IEEE 802.1p Class of Service
IEEE 802.1Q VLAN tagging
IEEE 802.1x Port Authentication Network Control
IEEE 802.1ab LLDP
IEEE 802.3ah OAM
IEEE 802.1ag Connectivity Fault Management(CFM)
RFC 768 UDP
RFC 793 TFTP
RFC 791 IP
RFC 792 ICMP
RFC 2068 HTTP
RFC 1112 IGMP v1
RFC 2236 IGMP v2
RFC 3376 IGMP v3
RFC 2710 MLD v1
FRC 3810 MLD v2
ITU-T G.8032 ERPS Ring
ITU-T Y.1731 Performance Monitoring
Environment
Operating Temperature
-40 ~ 75 degrees C
Storage Temperature
-40 ~ 85 degrees C
Humidity
5 ~ 95% (non-condensing)