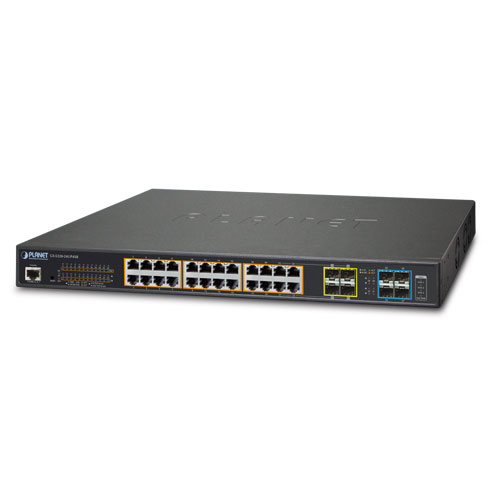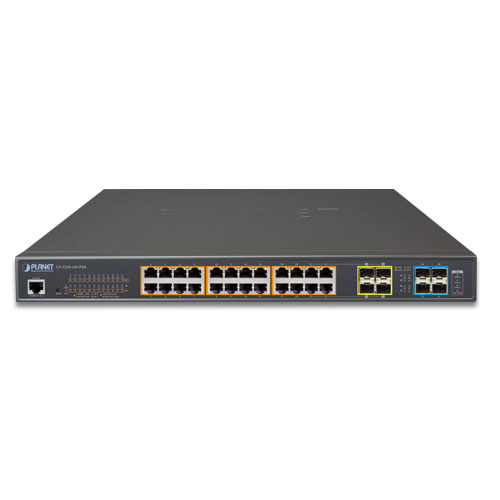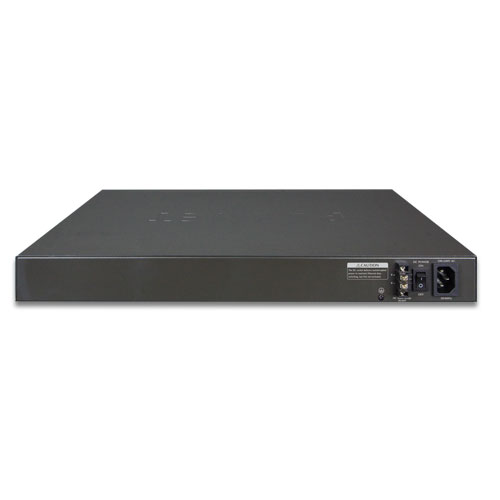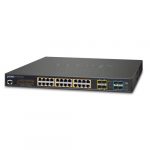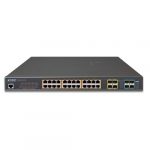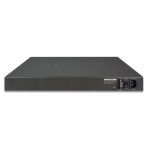 GS-5220-24UP4XR
L3 24-Port 10/100/1000T 75W Ultra PoE , with 4 shared SFP + 4-Port 10G SFP+ Managed Switch, ERPS Ring, ONVIF, Cybersecurity,W/Hardware L3 OSPFv2,IPv4/IPv6 Static Routing,  W/48V Redundant Power (Optional), (400W PoE Budget)
Applicazioni
SPECIFICHE
DOWNLOAD
Descrizione
Ultra PoE Networking Solution
PLANET GS-5220-24UP(L)4X(R) PoE Series can easily build an ultra PoE networking solution on the cybersecurity system for the enterprises.  For instance, it can work with the POS system and thin client to perform comprehensive security protection for today's businesses. The GS-5220-24UP(L)4X(R) PoE Series and POE-171S/IPOE-171S Ultra PoE Splitter operate as a pair to provide the easiest way to power your Ethernet devices which need high power input. Receiving data and power from the GS-5220-24UP(L)4X(R) PoE Series, the POE-171S/IPOE-171S separates digital data and power into several optional outputs (12V, 19V or 24V DC) to non-PoE devices such as laptops, thin client, POS system, PTZ network cameras, PTZ speed dome cameras, color touch-screen IP phones, multi-channel wireless LAN access points and other network devices at distance up to 100 meters.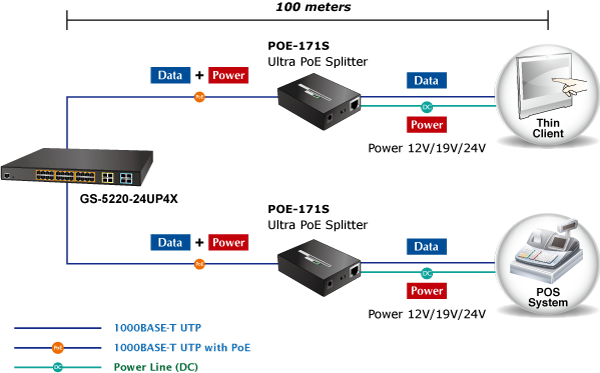 Optimal Redundant Ring for Faster Recovery of Managed Network
The GS-5220-24UP(L)4X(R) PoE Series supports redundant ring technology and features strong, rapid self-recovery capability to prevent interruptions and external intrusions. It incorporates advanced ITU-T G.8032 ERPS (Ethernet Ring Protection Switching) technology, and Spanning Tree Protocol (802.1w RSTP) into customer's network to enhance system reliability and uptime in harsh environments. In a certain simple ring network, the recovery time could be less than 50ms to quickly bring the network back, thus enabling the management network to keep on operating.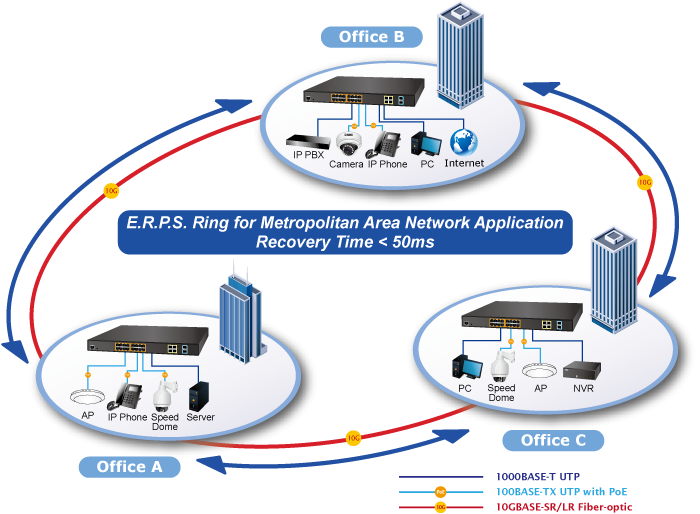 Hardware Specifications
Hardware Version
2
Copper Ports
24 10/100/1000BASE-T RJ45 auto-MDI/MDI-X ports
SFP/mini-GBIC Slots
4 100/1000BASE-X SFP interfaces, shared with Port-21 to Port-24
Compatible with 100BASE-FX SFP transceiver
SFP+ Slots
4 10GBASE-SR/LR SFP+ interfaces (Port-25 to Port-28)
Compatible with 1000BASE-SX/LX/BX SFP transceiver
Console
1 x RS232-to-RJ45 serial port (115200, 8, N, 1)
Switch Architecture
Store-and-Forward
Switch Fabric
128Gbps/non-blocking
Throughput
95.23Mpps@64Bytes
Address Table
16K entries, automatic source address learning and aging
Shared Data Buffer
32M bits
Flow Control
IEEE 802.3x pause frame for full duplex
Back pressure for half duplex
Jumbo Frame
10K bytes
Reset Button
< 5 sec: System reboot
> 5 sec: Factory default
Dimensions (W x D x H)
440 x 300 x 44.5 mm, 1U height
Weight
GS-5220-24UP4X: 4551g
GS-5220-24UP4XR: 4588g
GS-5220-24UPL4X: 5082g
GS-5220-24UPL4XR: 5119g
Power Consumption
GS-5220-24UP4X:
Max. 446.6 watts/1522.9 BTUGS-5220-24UP4XR:
AC: Max. 446.6 watts/1522.9 BTU
DC: Max. 33.9 watts/115.5 BTUGS-5220-24UPL4X:
Max. 659.9 watts/2249.2 BTU

GS-5220-24UPL4XR:
AC: Max.659.9 watts/2249.2 BTU
DC: Max. 35.1 watts/119.7 BTU

Power Requirements – AC
GS-5220-24UP4X(R): AC 100~240V, 50/60Hz, 7A
GS-5220-24UPL4X(R): AC 100~240V, 50/60Hz, 10A
Power Requirements – DC
GS-5220-24UP4XR: DC 36~60V, 2A
GS-5220-24UPL4XR: DC 36~60V, 2A
ESD Protection
6KV DC
Fan
3 smart fans
LED
System:
SYS (Green)
AC/PWR (Green)
DC (Green) (GS-5220-24UP(L)4XR Only)
Ring (Green)
Fan1/2/3 Alert (Red)
PoE PWR Alert (Red)
PoE Ethernet Interfaces (Port-1 to Port-24):
bt PoE (Green) , af/at PoE (Orange)
Ethernet Interfaces (Port-1 to Port-24):
1000 LNK/ACT (Green), 10/100 LNK/ACT (Orange)
100/1000Mbps SFP Combo Interfaces (Port 21 to Port 24):
1000 (Green), 100 (Orange)
1/10G SFP+ Interfaces (Port-25 to Port-28) :
1G (Green), 10G (Orange)
Power over Ethernet
PoE Standard
IEEE 802.3af/802.3at/802.3bt Ultra PoE PSE
PoE Power Supply Type
End-span/Mid-span/UPoE
PoE Power Output
GS-5220-24UP4X(R): Per port 54V DC, 75 watts (max.)
GS-5220-24UPL4X(R): Per port 52V DC, 75 watts (max.)
Power Pin Assignment
End-span : 1/2(-), 3/6(+)
Mid-span : 4/5(+), 7/8(-)
UPoE : 1/2(-), 3/6(+),4/5(+), 7/8(-)
PoE Power Budget
GS-5220-24UP4X(R): 400 watts (max.)
GS-5220-24UPL4X(R): 600 watts (max.)
PoE Ability PD @ 15 watts
GS-5220-24UP4X(R): 24 units
GS-5220-24UPL4X(R): 24 units
PoE Ability PD @ 30 watts
GS-5220-24UP4X(R): 13 units
GS-5220-24UPL4X(R): 20 units
PoE Ability PD @ 60 watts
GS-5220-24UP4X(R): 6 units
GS-5220-24UPL4X(R): 10 units
Layer 2 Management Functions
Port Configuration
Port disable/enable
Auto-negotiation 10/100/1000Mbps full and half duplex mode selection
Flow control disable/enable
Port Status
Display each port's speed duplex mode, link status, flow control status,
auto-negotiation status, trunk status
Port Mirroring
TX/RX/Both
Many-to-1 monitor
VLAN
802.1Q tagged based VLAN
Q-in-Q tunneling
Private VLAN Edge (PVE)
MAC-based VLAN
Protocol-based VLAN
Voice VLAN
MVR (Multicast VLAN registration)
Up to 255 VLAN groups, out of 4095 VLAN IDs
Link Aggregation
IEEE 802.3ad LACP/static trunk
14 groups with 8 port per trunk
Spanning Tree Protocol
IEEE 802.1D Spanning Tree Protocol (STP)
IEEE 802.1w Rapid Spanning Tree Protocol (RSTP)
IEEE 802.1s Multiple Spanning Tree Protocol (MSTP)
QoS
Traffic classification based, strict priority and WRR
8-level priority for switching:
– Port number
– 802.1p priority
– 802.1Q VLAN tag
– DSCP/ToS field in IP packet
IGMP Snooping
IGMP (v1/v2/v3) snooping, up to 255 multicast groups
IGMP querier mode support
MLD Snooping
MLD (v1/v2) snooping, up to 255 multicast groups
MLD querier mode support
Access Control List
IP-based ACL/MAC-based ACL
Up to 256 entries
Bandwidth Control
Per port bandwidth control
Ingress: 100Kbps~1000Mbps
Egress: 100Kbps~1000Mbps
Layer 3 Functions
IP Interfaces
Max. 128 VLAN interfaces
Routing Table
Max. 128 routing entries
Routing Protocols
IPv4 OSPFv2
IPv4 hardware static routing
IPv6 hardware static routing
Management
Basic Management Interfaces
Console; Telnet; Web browser; SNMP v1, v2c
Secure Management Interfaces
SSH, SSL, SNMP v3
SNMP MIBs
RFC 1213 MIB-II
RFC 1493 Bridge MIB
RFC 1643 Ethernet MIB
RFC 2863 Interface MIB
RFC 2665 Ether-Like MIB
RFC 2819 RMON MIB (Groups 1, 2, 3 and 9)
RFC 2737 Entity MIB
RFC 2618 RADIUS Client MIB
RFC 2863 IF-MIB
RFC 2933 IGMP-STD-MIB
RFC 3411 SNMP-Frameworks-MIB
RFC 4292 IP Forward MIB
RFC 4293 IP MIB
RFC 4836 MAU-MIB
IEEE 802.1X PAE
LLDP
Standards Conformance
Regulatory Compliance
FCC Part 15 Class A, CE
Standards Compliance
IEEE 802.3 10BASE-T
IEEE 802.3u 100BASE-TX/100BASE-FX
IEEE 802.3z Gigabit SX/LX
IEEE 802.3ab Gigabit 1000T
IEEE 802.3ae 10Gb/s Ethernet
IEEE 802.3x flow control and back pressure
IEEE 802.3ad port trunk with LACP
IEEE 802.1D Spanning Tree Protocol
IEEE 802.1w Rapid Spanning Tree Protocol
IEEE 802.1s Multiple Spanning Tree Protocol
IEEE 802.1p Class of Service
IEEE 802.1Q VLAN tagging
IEEE 802.1x Port Authentication Network Control
IEEE 802.1ab LLDP
IEEE 802.3af Power over Ethernet
IEEE 802.3at Power over Ethernet Plus
IEEE 802.3bt 4-pair Power over Ethernet
RFC 768 UDP
RFC 793 TFTP
RFC 791 IP
RFC 792 ICMP
RFC 2068 HTTP
RFC 1112 IGMP v1
RFC 2236 IGMP v2
RFC 3376 IGMP v3
RFC 2710 MLD v1
FRC 3810 MLD v2
Environment
Operating
Temperature: 0 ~ 50 degrees C
Relative Humidity: 5 ~ 95% (non-condensing)
Storage
Temperature: -10 ~ 70 degrees C
Relative Humidity: 5 ~ 95% (non-condensing)