Applicazioni
SPECIFICHE
DOWNLOAD
Descrizione
POE-151 è un iniettore PoE IEEE 802.3af che fornisce 48V DC su cavi Ethernet: inserisce tensione DC nel cavo di categoria 5, permettendo al cavo tra l'iniettore (POE-151) e lo splitter (POE-151S-5V/9V/12V) di trasferire dati e alimentazione contemporaneamente. La distanza massima tra l'iniettore (POE-151) e lo splitter (POE-151S-5V/9V/12V) è di 100 metri.
Connessione a dispositivi compatibili IEEE 802.3af
Con capacità IEEE 802.3af, l'iniettore POE-151 può connettersi direttamente con qualsiasi nodo finale conforme allo standard IEEE 802.3af, quali Access point wireless, telefoni IP e telecamere Internet che supportano la porta PoE in-linea IEEE 802.3af.
Installazione Iniettore + Splitter IEEE 802.3af
Per installazioni in luoghi in cui è difficile avere accesso alla presa elettrica, l'iniettore POE-151 e lo Splitter POE-151S-5V/9V/12V, utilizzati in coppia, forniscono la soluzione più semplice per alimentare dispositivi Ethernet come la telecamera ICA-110 installata a soffitto oppure l'access point WAP-4000 montato in cima ad un edificio.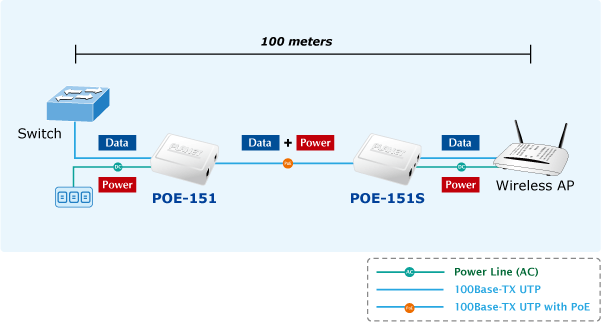 Ethernet Connector
2 x RJ-45( 1 for data + DC out, 1 for data in)
Ethernet Data Rate
10/100Mbps( vary on Ethernet device attached)
Input Voltage
DC 48V, 0.4A
Number of devices can be powered
1
Ethernet Cable
TIA/EIA-568, Category 5/5e cable
LED Indicator
1 x power, 1 x POE ready / in-use
Dimensions (W x D x H)
73 x 55 x 24 mm
EMI
FCC Class B, CE mark
Standard Compliance
IEEE 802.3 Ethernet,
IEEE 802.3u Fast Ethernet,
IEEE 802.3af Power over Ethernet.