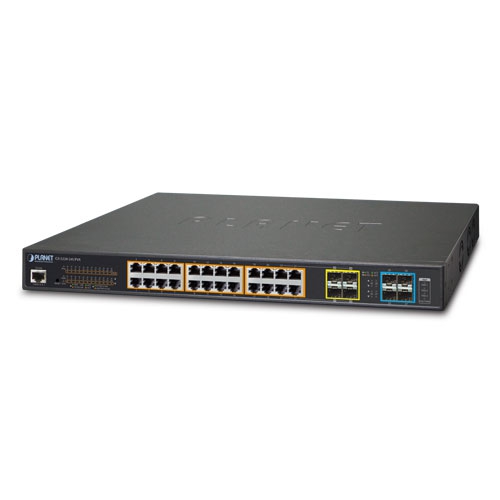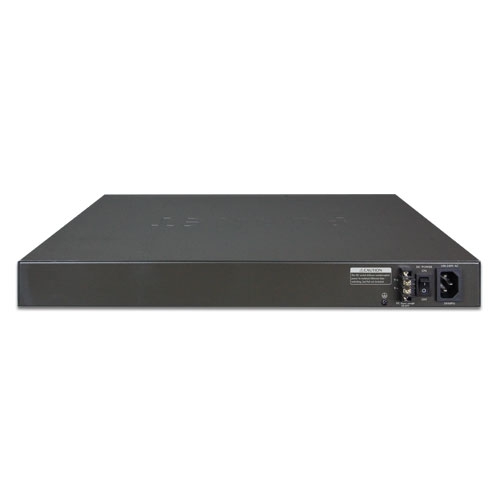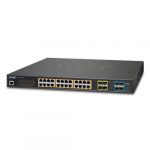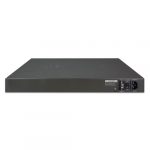 GS-5220-24UPL4XR
L3 24-Port 10/100/1000T 802.3bt PoE + 4-Port 10G SFP+ Managed Switch
Applicazioni
SPECIFICHE
DOWNLOAD
Descrizione
Amazing Ultra PoE Managed Switches with Layer 3 Switching and Security
PLANET GS-5220-24UP(L)4X(R) PoE Series of cost-optimized, 1U, Gigabit PoE Managed Switch featuring PLANET intelligent PoE functions to improve the availability of critical business applications. They provide IPv6/IPv4 dual stack management and built-in Layer 3 OSPF/static routing Gigabit switching along with 24 10/100/1000BASE-T ports featuring 75-watt Ultra PoE and 4 additional 10Gigabit SFP+ ports. With a total power budget of up to 400/600 watts for different kinds of PoE applications, the GS-5220-24UP(L)4X(R) PoE Series provides a quick, safe and cost-effective PoE network solution for small businesses and enterprises.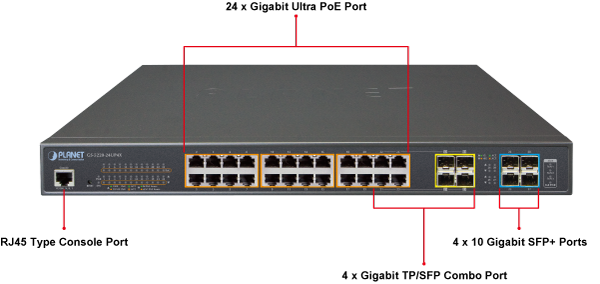 Convenient and Smart ONVIF Devices with Detection Feature
PLANET has newly developed an awesome feature — ONVIF Support — which is specifically designed for co-operating with Video IP Surveillances. From the GS-5220-24UP(L)4X(R) PoE Series GUI, clients just need one click to search and show all of the ONVIF devices via network application. In addition, clients can upload floor images to the switch series, making the deployments of surveillance and other devices easy for planning and inspection purposes. Moreover, clients can get real-time surveillance's information and online/offline status. They allow PoE reboot control from the GUI.
75 Watts of Power over 4-pair UTP
The GS-5220-24UP(L)4X(R) PoE Series ultra PoE solution adopts the IEEE 802.3at/af standard. Instead of delivering power over 2-pair twisted UTP – be it end-span (Pins 1,2,3 and 6) or mid-span (Pins 4,5,7 and 8), they provide the capability to source up to 75 watts of power by using all the four pairs of standard Cat.5e/6 Ethernet cabling. In the new 4-pair system, two PSE controllers will be used to power both the data pairs and the spare pairs. They can offer more PoE applications, such as:
PoE PTZ speed dome
Any network device that needs higher PoE power to work normally
Thin-client
AIO (All-in-One) touch PC
Remote digital signage display
Built-in Unique PoE Functions for Powered Devices Management
Being the managed PoE switches for surveillance, wireless and VoIP networks, the GS-5220-24UP(L)4X(R) PoE Series features the following special PoE management functions:
PD alive check
Scheduled power recycling
PoE schedule
PoE usage monitoring
Scheduled Power Recycling
The GS-5220-24UP(L)4X(R) PoE Series allows each of the connected PoE IP cameras or PoE wireless access points to reboot at a specified time each week. Therefore, they will reduce the chance of IP camera or AP crash resulting from buffer overflow.
Intelligent Powered Device Alive Check
The GS-5220-24UP(L)4X(R) PoE Series can be configured to monitor connected PD (powered device) status in real time via ping action. Once the PD stops working and responding, the GS-5220-24UP(L)4X(R) PoE Series will resume the PoE port power and bring the PD back to work. They will greatly enhance the network reliability through the PoE port resetting the PD's power source and reducing administrator management burden.
PoE Schedule for Energy Saving
Under the trend of energy saving worldwide and contributing to environmental protection, the GS-5220-24UP(L)4X(R) PoE Series can effectively control the power supply besides their capability of giving high watts power. The "PoE schedule" function helps you to enable or disable PoE power feeding for each PoE port during specified time intervals and it is a powerful function to help SMBs or enterprises save power and money. It also increases security by powering off PDs that should not be in use during non-business hours.
PoE Usage Monitoring
Via the power usage chart in the web management interface, the GS-5220-24UP(L)4X(R) PoE Series enables the administrator to monitor the status of the power usage of the connected PDs in real time. Thus, they greatly enhance the management efficiency of the facilities.
Layer 3 Routing Support
The GS-5220-24UP(L)4X(R) PoE Series enables the administrator to conveniently boost network efficiency by configuring Layer 3 IPv4/IPv6 VLAN static routing manually, and the OSPFv2 (Open Shortest Path First) settings automatically. The OSPF is an interior dynamic routing protocol for autonomous system based on link state. The protocol creates a database for link state by exchanging link states among Layer 3 switches, and then uses the Shortest Path First algorithm to generate a route table based on that database.
Cost-effective 10Gbps Uplink Capacity
10G Ethernet is a big leap in the evolution of Ethernet. The four 10G SFP+ slots of the GS-5220-24UP(L)4X(R) PoE Series support dual-speed 10GBASE-SR/LR or 1000BASE-SX/LX, meaning the administrator now can flexibly choose the suitable SFP/SFP+ transceiver according to the transmission distance or the transmission speed required to extend the network efficiently. They greatly support SMB network to achieve the maximum performance of 10Gbps in a cost-effective way.
Redundant AC/DC Power Supply to Ensure Continuous Operation
The GS-5220-24UP(L)4XR are particularly equipped with one 100~240V AC power supply unit and one 36~60V DC power supply unit to provide an enhanced reliable and scalable redundant power supply. The continuous power system is specifically designed to fulfill the demands of high-tech facilities requiring the highest power integrity. With the 36~60V DC power supply, the GS-5220-24UP(L)4XR are able to act as a telecom-level device that can be located in the electronic room.C-GS-5220-24UP4X_R_24UL4X_Rv2_sC-GS-5220-24UP4X_R_24UL4X_Rv2_s
Hardware Specifications
Hardware Version
2
Copper Ports
24 10/100/1000BASE-T RJ45 auto-MDI/MDI-X ports
SFP/mini-GBIC Slots
4 100/1000BASE-X SFP interfaces, shared with Port-21 to Port-24
Compatible with 100BASE-FX SFP transceiver
SFP+ Slots
4 10GBASE-SR/LR SFP+ interfaces (Port-25 to Port-28)
Compatible with 1000BASE-SX/LX/BX SFP transceiver
Console
1 x RS232-to-RJ45 serial port (115200, 8, N, 1)
Switch Architecture
Store-and-Forward
Switch Fabric
128Gbps/non-blocking
Throughput
95.23Mpps@64Bytes
Address Table
16K entries, automatic source address learning and aging
Shared Data Buffer
32M bits
Flow Control
IEEE 802.3x pause frame for full duplex
Back pressure for half duplex
Jumbo Frame
10K bytes
Reset Button
< 5 sec: System reboot
> 5 sec: Factory default
Dimensions (W x D x H)
440 x 300 x 44.5 mm, 1U height
Weight
GS-5220-24UP4X: 4551g
GS-5220-24UP4XR: 4588g
GS-5220-24UPL4X: 5082g
GS-5220-24UPL4XR: 5119g
Power Consumption
GS-5220-24UP4X:
Max. 446.6 watts/1522.9 BTUGS-5220-24UP4XR:
AC: Max. 446.6 watts/1522.9 BTU
DC: Max. 33.9 watts/115.5 BTU

GS-5220-24UPL4X:
Max. 659.9 watts/2249.2 BTU

GS-5220-24UPL4XR:
AC: Max.659.9 watts/2249.2 BTU
DC: Max. 35.1 watts/119.7 BTU

Power Requirements – AC
GS-5220-24UP4X(R): AC 100~240V, 50/60Hz, 7A
GS-5220-24UPL4X(R): AC 100~240V, 50/60Hz, 10A
Power Requirements – DC
GS-5220-24UP4XR: DC 36~60V, 2A
GS-5220-24UPL4XR: DC 36~60V, 2A
ESD Protection
6KV DC
Fan
3 smart fans
LED
System:
SYS (Green)
AC/PWR (Green)
DC (Green) (GS-5220-24UP(L)4XR Only)
Ring (Green)
Fan1/2/3 Alert (Red)
PoE PWR Alert (Red)
PoE Ethernet Interfaces (Port-1 to Port-24):
bt PoE (Green) , af/at PoE (Orange)
Ethernet Interfaces (Port-1 to Port-24):
1000 LNK/ACT (Green), 10/100 LNK/ACT (Orange)
100/1000Mbps SFP Combo Interfaces (Port 21 to Port 24):
1000 (Green), 100 (Orange)
1/10G SFP+ Interfaces (Port-25 to Port-28) :
1G (Green), 10G (Orange)
Power over Ethernet
PoE Standard
IEEE 802.3af/802.3at/802.3bt Ultra PoE PSE
PoE Power Supply Type
End-span/Mid-span/UPoE
PoE Power Output
GS-5220-24UP4X(R): Per port 54V DC, 75 watts (max.)
GS-5220-24UPL4X(R): Per port 52V DC, 75 watts (max.)
Power Pin Assignment
End-span : 1/2(-), 3/6(+)
Mid-span : 4/5(+), 7/8(-)
UPoE : 1/2(-), 3/6(+),4/5(+), 7/8(-)
PoE Power Budget
GS-5220-24UP4X(R): 400 watts (max.)
GS-5220-24UPL4X(R): 600 watts (max.)
PoE Ability PD @ 15 watts
GS-5220-24UP4X(R): 24 units
GS-5220-24UPL4X(R): 24 units
PoE Ability PD @ 30 watts
GS-5220-24UP4X(R): 13 units
GS-5220-24UPL4X(R): 20 units
PoE Ability PD @ 60 watts
GS-5220-24UP4X(R): 6 units
GS-5220-24UPL4X(R): 10 units
Layer 2 Management Functions
Port Configuration
Port disable/enable
Auto-negotiation 10/100/1000Mbps full and half duplex mode selection
Flow control disable/enable
Port Status
Display each port's speed duplex mode, link status, flow control status,
auto-negotiation status, trunk status
Port Mirroring
TX/RX/Both
Many-to-1 monitor
VLAN
802.1Q tagged based VLAN
Q-in-Q tunneling
Private VLAN Edge (PVE)
MAC-based VLAN
Protocol-based VLAN
Voice VLAN
MVR (Multicast VLAN registration)
Up to 255 VLAN groups, out of 4095 VLAN IDs
Link Aggregation
IEEE 802.3ad LACP/static trunk
14 groups with 8 port per trunk
Spanning Tree Protocol
IEEE 802.1D Spanning Tree Protocol (STP)
IEEE 802.1w Rapid Spanning Tree Protocol (RSTP)
IEEE 802.1s Multiple Spanning Tree Protocol (MSTP)
QoS
Traffic classification based, strict priority and WRR
8-level priority for switching:
– Port number
– 802.1p priority
– 802.1Q VLAN tag
– DSCP/ToS field in IP packet
IGMP Snooping
IGMP (v1/v2/v3) snooping, up to 255 multicast groups
IGMP querier mode support
MLD Snooping
MLD (v1/v2) snooping, up to 255 multicast groups
MLD querier mode support
Access Control List
IP-based ACL/MAC-based ACL
Up to 256 entries
Bandwidth Control
Per port bandwidth control
Ingress: 100Kbps~1000Mbps
Egress: 100Kbps~1000Mbps
Layer 3 Functions
IP Interfaces
Max. 128 VLAN interfaces
Routing Table
Max. 128 routing entries
Routing Protocols
IPv4 OSPFv2
IPv4 hardware static routing
IPv6 hardware static routing
Management
Basic Management Interfaces
Console; Telnet; Web browser; SNMP v1, v2c
Secure Management Interfaces
SSH, SSL, SNMP v3
SNMP MIBs
RFC 1213 MIB-II
RFC 1493 Bridge MIB
RFC 1643 Ethernet MIB
RFC 2863 Interface MIB
RFC 2665 Ether-Like MIB
RFC 2819 RMON MIB (Groups 1, 2, 3 and 9)
RFC 2737 Entity MIB
RFC 2618 RADIUS Client MIB
RFC 2863 IF-MIB
RFC 2933 IGMP-STD-MIB
RFC 3411 SNMP-Frameworks-MIB
RFC 4292 IP Forward MIB
RFC 4293 IP MIB
RFC 4836 MAU-MIB
IEEE 802.1X PAE
LLDP
Standards Conformance
Regulatory Compliance
FCC Part 15 Class A, CE
Standards Compliance
IEEE 802.3 10BASE-T
IEEE 802.3u 100BASE-TX/100BASE-FX
IEEE 802.3z Gigabit SX/LX
IEEE 802.3ab Gigabit 1000T
IEEE 802.3ae 10Gb/s Ethernet
IEEE 802.3x flow control and back pressure
IEEE 802.3ad port trunk with LACP
IEEE 802.1D Spanning Tree Protocol
IEEE 802.1w Rapid Spanning Tree Protocol
IEEE 802.1s Multiple Spanning Tree Protocol
IEEE 802.1p Class of Service
IEEE 802.1Q VLAN tagging
IEEE 802.1x Port Authentication Network Control
IEEE 802.1ab LLDP
IEEE 802.3af Power over Ethernet
IEEE 802.3at Power over Ethernet Plus
IEEE 802.3bt 4-pair Power over Ethernet
RFC 768 UDP
RFC 793 TFTP
RFC 791 IP
RFC 792 ICMP
RFC 2068 HTTP
RFC 1112 IGMP v1
RFC 2236 IGMP v2
RFC 3376 IGMP v3
RFC 2710 MLD v1
FRC 3810 MLD v2
Environment
Operating
Temperature: 0 ~ 50 degrees C
Relative Humidity: 5 ~ 95% (non-condensing)
Storage
Temperature: -10 ~ 70 degrees C
Relative Humidity: 5 ~ 95% (non-condensing)