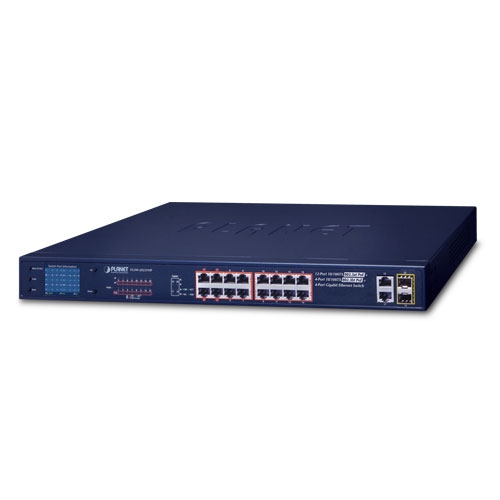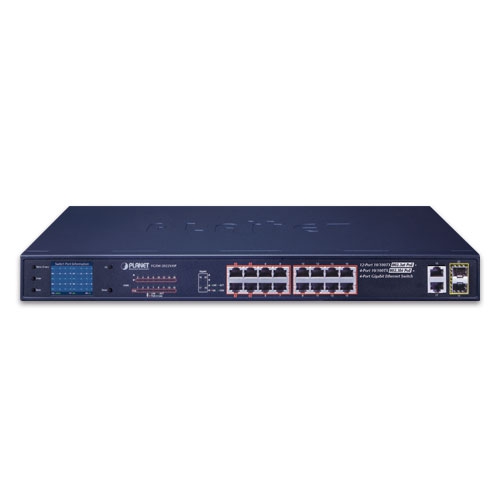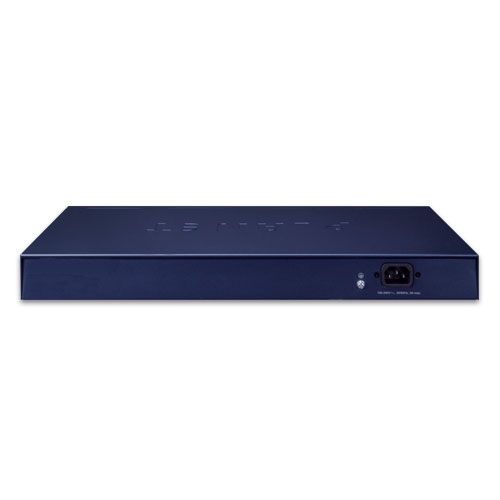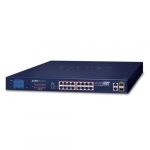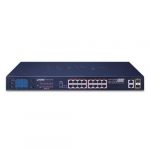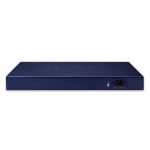 FGSW-2022VHP
12-Port 10/100TX 802.3at PoE + 4-Port 10/100TX 802.3bt PoE + 2-Port Gigabit TP + 2-Port SFP Ethernet Switch with LCD Management (300W PoE Budget, Standard/VLAN/Extend mode, PoE Budget, bandwidth control, PD alive check setup over Color LCD )
Applicazioni
SPECIFICHE
DOWNLOAD
Descrizione
Perfectly-integrated Solution for PoE IP Camera and NVR System
To fulfill the needs of the high power consumption of PoE network applications, the FGSW-2022VHP provides 4 IEEE 802.3bt PoE++ ports and 12 IEEE 802.3at PoE+ ports that combine up to 60/30 watts of power output and data per port over one Cat. 5e/6 Ethernet cable. With its 11.2Gbps high-performance switch architecture and 300-watt PoE power budget, the FGSW-2022VHP is an ideal device for catering to a medium-scale IP surveillance or public PoE networks at a lower total cost.
For instance, one FGSW-2022VHP can be combined with one 16-channel NVR, 4 PoE speed dome cameras and 12 PoE IP cameras as a kit for the administrators to centrally and efficiently manage the surveillance system in the local LAN and the remote site via Internet. The recorded video files from the 16 PoE cameras powered by the FGSW-2022VHP can be saved in the 16-channel NVR systems or surveillance software to perform comprehensive security monitoring.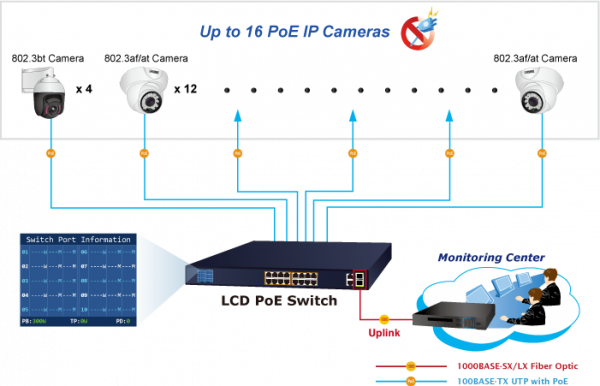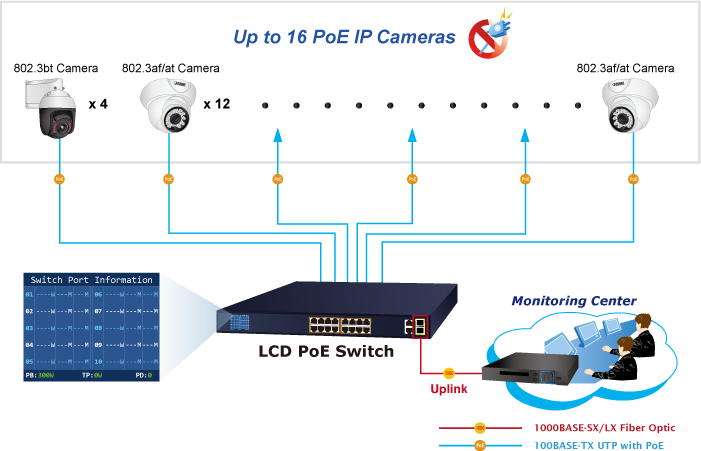 Department/Workgroup PoE Switch
Providing 4 802.3bt PoE++ and 12 802.3at PoE+ in-line power interfaces, the FGSW-2022VHP can easily build a power that centrally controls IP phone system, IP camera system and wireless AP group for enterprises. Cameras can be installed around the corner in the company or campus for surveillance demands. Without the power-socket limitation, the FGSW-2022VHP makes the installation of cameras easier and more efficient.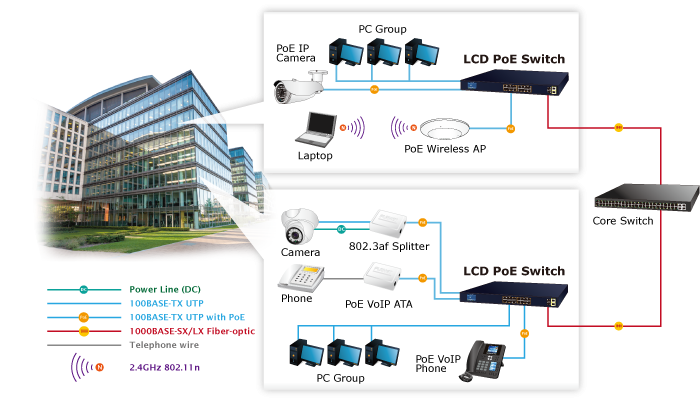 Hardware Specifications
Copper Ports
16 10/100BASE-TX RJ45 auto-MDI/MDI-X ports with port-1 to port-16
2 10/100/1000BASE-T RJ45 auto-MDI/MDI-X ports with port-17 to port-18
SFP/mini-GBIC Slots
2 1000BASE-X SFP interfaces with port-19 to port-20
PoE Injector Ports
4 ports with 802.3bt PoE++ injector function with port-1 to port-4
12 ports with 802.3at PoE+ injector function with port-5 to port-16
Switch Architecture
Store-and-Forward
Switch Fabric
11.2Gbps/non-blocking
Throughput (packet per second)
8.3Mpps@64 bytes packet
MAC Address Table
8K entries
Jumbo Frame
9K bytes
Flow Control
IEEE 802.3x pause frame for full duplex; back pressure for half duplex
LED Indicators
System:
Power (Green)
10/100BASE-TX RJ45 Interfaces:
10/100Mbps LNK/ACT (Green)
PoE-in-Use (Amber)
1000BASE-X SFP Interfaces:
LNK/ACT (Green)
1000Mbps (Green)
10/100/1000BASE-T TP Interfaces:
LNK/ACT (Green)
100Mbps (Red)
1000Mbps (Green)
LCD Monitor (W x D)
40.6 x 30.5 mm, 2-inch
Buttons
Menu, Enter, Back, Up and Down
Dimensions (W x D x H)
233 x 440 x 44 mm (1U height)
Enclosure
Metal
Weight
3.3kg
Power Requirements
100~240V AC, 50/60Hz, 5A max.
Power Consumption/ Dissipation
Max. 330watts/1132 BTU
Thermal Fan
3
ESD Protection
Contact discharge of ±6KV DC
Air discharge of ±8KV DC
Surge Protection
±6KV
Power over Ethernet
PoE Standard
IEEE 802.3bt PoE++ PSE (Port 1-4)
IEEE 802.3af/at PoE+ PSE (Port 5-16)
PoE Power Supply Type
802.3bt/UPoE/Legacy (Port 1-4)
End-span (Port 5-16)
PoE Power Output
Per PoE++ port 54V DC, 1.2A. max. 60 watts
Per PoE+ port 54V DC, 600mA. max. 32 watts
Power Pin Assignment
802.3bt: 1/2 (+), 3/6 (-), 4/5 (+), 7/8 (-)
End-span: 1/2 (-), 3/6 (+)
PoE Power Budget
300 watts
Max. Number of Class 2 PDs
16
Max. Number of Class 3 PDs
16
Max. Number of Class 4 PDs
11
Standards Conformance
Regulatory Compliance
FCC Part 15 Class A, CE
Standards Compliance
IEEE 802.3 10BASE-T
IEEE 802.3u 100BASE-TX
IEEE 802.3ab Gigabit 1000BASE-T
IEEE 802.3z Gigabit SX/LX
IEEE 802.3x Flow Control and Back Pressure
IEEE 802.3af Power over Ethernet
IEEE 802.3at Power over Ethernet Plus
IEEE 802.3bt PoE++ (Type 3)
IEEE 802.3az Energy Efficient Ethernet (EEE)
Environment
Operating
Temperature: -10 ~ 60 degrees C
Relative Humidity: 5 ~ 90% (non-condensing)
Storage
Temperature: -15 ~ 70 degrees C
Relative Humidity: 5 ~ 90% (non-condensing)